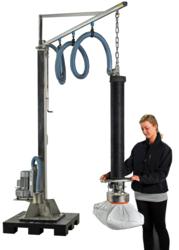 The Sack Vacuum Lifter is the ideal solution to increase efficiency and improve health and safety conditions.
(PRWEB UK) 18 April 2012
The new sack lifting and splitting vacuum lifting solution from Packline Materials Handling enables the operator to lift and accurately place paper and plastic sacks and bags. The sacks can be split and opened without losing the suction from the vacuum lifting head. Available in stainless steel, the sack lifting and splitting vacuum lifters are suitable for clean room environments such as food processing, chemical and pharmaceutical industries.
Packline Materials Handling vacuum lifters enable users to repeatedly lift and accurately place a wide variety of loads including paper and plastic sacks, as well as boxes, sheets of material, crates and cartons for example.
When lifting sacks or bags, the sacks can be split and opened without losing suction from the vacuum lifting head.
This vacuum lifting solution is suitable for production and mixing areas involving raw ingredients and bulk materials. The bag can be split and contents poured into a hopper without loss of suction from the vacuum lifter.
Available in stainless steel, these suction lifters are ideal for the food processing industries, and clean room environments.
The two joint swing arm vacuum lifter can continuously rotate, and the slide mechanism on the hinged arm gives a full range of movements. An electrically driven vacuum pump provides both lifting and suction functions and a wide range of quickly interchangeable vacuum heads is available.

The vacuum lifting heads have a 'fingertip' control bar so the operator uses minimum effort to move heavy loads.
Safety is of paramount importance and in the event of a power failure the load is gently lowered to the ground before the suction head will release.
The suction lifting equipment can be specified in stainless steel for use in the pharmaceutical and food industries.
With a remotely installed power pack, the vacuum lifters can also be installed in hazardous areas.
Packline Materials Handling distributes vacuum lifting equipment across the UK and Ireland, in conjunction with their existing range of stainless and non-stainless steel lifting and handling equipment.
Packline Materials Handling has been designing and manufacturing lifting and handling equipment since 1993. The 'Compac' range of stainless steel materials handling equipment has established Packline as a leading supplier of quality roll and drum handling equipment for the food, drinks, dairy, pharmaceutical and medical processing industries worldwide.
Packline Materials Handling are able to provide bespoke lifting and handling solutions for materials handling issues involving rolls, reels and drums; by creating new concepts or tailoring existing lifting and handling equipment to meet specific requirements.
For further information on vacuum lifting equipment or the full range of lifting and handling equipment, please contact Packline Materials Handling on +44 (0)1202 307700 or visit http://www.packline.co.uk
Packline Ltd
Unit 28
Newtown Business Park
Ringwood Road
Poole, Dorset
BH12 3LL, UK