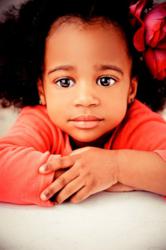 Child modelling means socialising with others
London, UK (PRWEB UK) 17 April 2012
A fragrant little flower bursts onto the modelling scene and La Mode is tending their blooms.
We meet Lily Jackson, a child as sweet as nectar. La Mode London launches yet another stunning modelling portfolio for an aspiring little model.
'Lily was a lovely little flower bud to work with,' says a spokesperson for La Mode.' Some children are very shy at first when they come into the studio, but Lily was immediately at home. She blossomed as the photo shoot day went on, and loved every minute of posing in front of the camera.'
La Mode goes on to explain that not every child is cut out for modelling. If a child is particularly shy, for example, then bringing them to a very busy modelling studio may not be the best idea. But there were no such worries where Lily was concerned.
'Child modelling means socialising with others, sometimes with other kids their own age but mainly with lots of grown-ups. For an only child of Lily's age, this can be such a bonus for them, give them a great grounding for school when they start.' La Mode continues, 'if a child has already started nursery, then there are usually no problems with them settling into the photo shoot. It can look a very scary place, but our experts here at La Mode really know how to put a model at their ease, no matter how young or old they are.'
Lily's parents state that,' being the only child, she finds it easier to socialise with other kids while at home by watching children television programs.' They go on to enthuse, 'Lily is a much energised child who loves going to the park to play football with daddy and take pictures. She is fascinated about shopping and enthusiastic about fashionable bags, make up and jewellery.'
It really seems Lily has taken her starring performance at La Mode recently, totally in her stride. Her passion to sing melody and dance was definitely a treat for the photographers and stylists at the photographic studio that day.
'She entertained all of us,' say La Mode. 'She's definitely a little poppet, but more importantly she certainly has the temperament, as well as the looks to hopefully do well in commercial modelling.'
'It isn't fair to push a child into doing something if they lack interest. Only a parent knows their children well enough and ultimately a child will resent their parents if they are pushing too hard in a direction they don't want to go.' Clearly, there are no such worries as far as Lily is concerned.
' Modelling agencies London are always on the lookout for new faces and if a child model can stand out from the crowd and really has got what it takes, then hopefully they will be able to do well,' say La Mode. With Lily's new professionally produced portfolio, she has the starting tools needed to help her succeed with either a model agency or, with the help of her parents, a great start in the world of commercial modelling.
Visit http://www.lamodelondon.com and view Lily's portfolio online, just launched and looking fresh as a daisy.