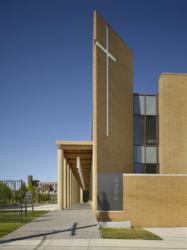 "We're honored to be recognized for this project, not only as an example of excellent design, but also for the building's contribution to urban revitalization in North Philadelphia." -- Daniel Kelley, FAIA, senior partner with MGA Partners
Philadelphia, PA (PRWEB) April 17, 2012
MGA Partners Architects today announced it received a Design Excellence Award for The Salvation Army Ray and Joan Kroc Corps Community Center in Philadelphia. The award, bestowed by the Pennsylvania Chapter of the American Institute of Architects (AIA), recognizes the project for introducing a new generation of community activity into an urban landscape once blighted by poverty and fractured by the loss of manufacturing.
"We're honored to be recognized for this project, not only as an example of excellent design, but also for the building's contribution to urban revitalization in North Philadelphia," says Daniel Kelley, FAIA, senior partner with MGA Partners and lead designer of the Center.
The 130,000-square-foot community center features sports and recreation facilities including a world-class aquatics center and thoughtfully planned worship, job training, and meeting and event spaces. Outdoor spaces were also critical to the overall design. They include walking trails, playgrounds, athletic fields, and even feature a functional urban farm, all compatible with promoting the Salvation Army's mission promoting well-being of the body, mind, and spirit.
Philadelphia Success Story
The Citation of Merit for design, for a project that "bears an exceptional aspect" and "represents excellence," was singled out by the jury, including chairman David Dixon, FAIA. The building has been covered recently in Planning, Architectural Record and Interior Design magazines.
Since opening in November 2010, The Salvation Army Ray and Joan Kroc Corps Community Center has become a national symbol of the important roles played by charitable giving, architecture and urbanism. The Philadelphia project is one of 27 new centers built or under construction around the nation following a private donation of $1.5 billion several years ago by the philanthropist Joan Kroc.
Building the Salvation Army Kroc Center in North Philadelphia has provided a model for both future transformations of urban edges and industrial landscapes, as well as for community centers across the county. Reviving the center's abandoned industrial site has helped reunite forgotten neighborhoods by bridging them with other nearby residential areas through the creation of a destination and a new hub of activity.
According to the client, The Salvation Army, the work by MGA Partners has been central to creating a successful, efficient operation with a restorative impact on this neighborhood. It is also seen as a model of how private gifts to charities can have an impact far beyond their main intended beneficiaries. In fact, since the center opened in November 2010, the project has created hundreds of jobs, tens of millions in annual economic impact, and continues to serve an ever-growing membership of more than 9,500. The center directly employs about 450 people.
The award from the AIA was conferred during a ceremony in Harrisburg, PA on April 3, 2012. For more information on the award or on MGA Partners, contact Chris Sullivan at 914-462-2096 or chris(at)sullivanmumford(dot)com.
About MGA Partners Architects
MGA Partners Architects is a nationally recognized, award-winning architecture practice based in Philadelphia. The firm is distinguished for combining design excellence with long-term value, and more than half of the firm's architects are LEED Accredited Professionals. Its emphasis on exceptional design is reflected in an array of significant awards and publications. MGA's collaborative approach results in long-term relationships with clients, which is demonstrated through repeat commissions for prominent universities, the federal government, and public institutions. Established in 1958 as Mitchell/Giurgola Architects, the firm reorganized as MGA Partners Architects in 1990 and has since completed over $600 million of work throughout the United States For more information, please visit http://www.mgapartners.com.