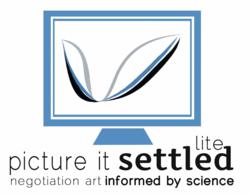 Just seeing offers on a graph like this can be helpful enough in planning your next move, but the app also helps you to plan that move by making it easy to make a new offer that matches the dollar amount or percentage change of your last offer
San Antonio, TX (PRWEB) April 18, 2012
Picture It Settled™, software developed to help litigants analyze their positions and design successful negotiation strategies, is now available for the new Blackberry Bold 9900 series. Picture It Settled™ Lite became available in the Apple Store and Android Market in December and debuted for several BlackBerry models in App World on March 28, 2012. The BlackBerry 9900 is the newest the thinnest BlackBerry with the most powerful engine BlackBerry has put in a smartphone.
Don Philbin developed Picture It Settled™ with expert assistance of software engineers at Southwest Research Institute®. The program uses patent-pending algorithms, neural networks, and data from thousands of cases and court statistics to help negotiators map-out successful strategies and calculate strategic moves. The Lite version easily tracks dollar moves and the time intervals between them. It then projects the intersection point in both dimensions. With each move, the App also offers pre-calculations based on negotiation theory.
Reviews have been positive for the application on iPhone and Android. According to Jeff Richardson at iPhone J.D.:"Just seeing offers on a graph like this can be helpful enough in planning your next move, but the app also helps you to plan that move by making it easy to make a new offer that matches the dollar amount or percentage change of your last offer, or the dollar amount or percentage change of your opponent's last offer." For more information and a video about Picture It Settled™, please visit the website at http://www.pictureitsettled.com.
Founder Don Philbin, JD, MBA, LLM, was one of three Texas mediators listed in the inaugural edition of The International Who's Who of Commercial Mediation in 2011, was recognized as the Outstanding Lawyer in Mediation for 2011 by the San Antonio Business Journal, and continues to be listed in The Best Lawyers in America, Texas Super Lawyers, U.S. News and Best Lawyers' "Best Law Firm" survey, and The Best Lawyers in San Antonio. Don is also an elected fellow of the International Academy of Mediators and the American Academy of Civil Trial Mediators. Don not only mediates individual and class matters in a wide variety of substantive areas, he keeps up with cutting edge theory by continuing to teach academic and professional skills courses to seasoned lawyers and judges at Pepperdine Law's top-ranked Straus Institute for Dispute Resolution, in addition to guest lectures at UT Law, St. Mary's Law and other programs.