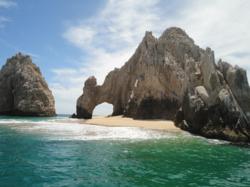 Cabo San Lucas, Mexico (PRWEB) April 17, 2012
Cabo San Lucas is a great place to vacation and it is made even greater with the VIP Gold Card. The VIP GOLD Card is a discount card that can be used for the entire duration of the vacation. The card is good for discounts on hotel rooms, activities, car rental, spa treatments, and even restaurants. This card is provided to every client that purchases a vacation package through the website: http://www.discountedcabobeachresorts.com. Not only does the card come included with these vacation packages, it also entitles the card holder to receive 50% off of Cabo Villas Beach Resort and Spa for any additional nights that they may want to add to a package.
No matter what you do in Cabo San Lucas, The VIP Gold Card will allow you to do it at a discount. Best of all it is included in the Sea and Stay and Premium packages available from Cabo Villas Beach Resort and Spa. Take advantage of the great discounts that this card provides within this family-owned resort. Spa Ritual, the on-site spa, can provide you with many treatments such as massages and facials and the VIP Gold Card allows you to receive 20% off each treatment. You can also use the card at the Cabo Villas Beach Resort's beach club, Baja Cantina Beach. Here the card gets you 10% off everything you order throughout the day. You can also get this 10% discount at the Baja Brewing Company, which is located on the 7th floor of the Cabo Villas Beach Resort and Spa.
This card isn't only good at the resort; it can be used all over Cabo San Lucas. In fact this card is valid for 25% to 50% off of virtually every activity that there is to do in Cabo San Lucas. The VIP GOLD Card will save the average vacationer hundreds of dollars. It can be used on almost everything you can imagine from wave runners to whale watching to swimming to ATV tours. Cabo has many exciting activities like parasailing, Zip lines, city tours, snorkeling adventures, and more that all can be reserved saving a minimum of 25% depending on the activity. This card is also good for things such as renting cars, spas, and restaurants.
About Cabo Villas
Cabo Villas Beach Resort and Spa is a family-owned resort that prides them on offering 5-star accommodations at a 3-star price. They provide personalized customer service at the best location in the Heart of Cabo. Guests love the small resort feel and the professionally-decorated suites with fantastic views of the Sea of Cortez. The resort features 140 custom decorated luxury suites, 3 on-site restaurants and 3 pools with a 20-person Jacuzzi. There is a 6,000 square foot spa on-site that provides skilled estheticians and therapist to release stress and simply relax. Cabo Villas even has its own market and business lounge for convenience.