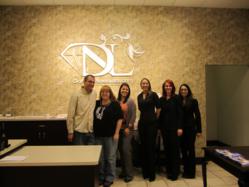 Beth has made family and friends all into die-hard Diamond Nexus fans too, which is really something that speaks to our quality and her love for Diamond Nexus
(PRWEB) April 16, 2012
Diamond Nexus has created a unique dynamic with their customers on their company Facebook page. So when one longtime customer who had been hugely influential on the company's Facebook page had informed them of her plans to drive 6 hours to visit the stores, with her husband, Diamond Nexus wanted to plan something exciting for her.
Beth and Eric drove all day to get to the Woodfield Mall retail location in Schaumberg, IL. Bri Smith, Retail District Manager, greeted them. "We gave them the complete tour and they were able to see where we as a brand have moved to, with the elegant and modern store design. We were really honored to have them come to see us."
Following the Chicago store visit, the couple drove up to Milwaukee the next day to tour the headquarters and travel to the retail store in the Mayfair Mall. Waiting to greet them were Gary LaCourt, CEO and Jennifer London, Social Media Coordinator. "We appreciate all of our customers, but it was touching that Diamond Nexus was the first thought in their minds for what to center a vacation around," commented LaCourt.
A limousine was arranged to bring everyone to the Mayfair Mall store. Angela Dittman, head of HR, accompanied the couple, along with London. At the store, another extensive tour was given, and Beth was able to find the perfect gift when she tried on one of the affordable engagement rings. Lunch followed at McCormick & Schmick's.
For Jennifer and Beth, planning this visit had begun as a joke on Facebook centered on her coming into town for a cookout before she visited the stores. Unfortunately, her visit landed on the same day as the Brewers opening day, and quite a few of the office employees had already taken off for the event.
" I had really looked forward to meeting Beth, given all of the fun interactions we had on Facebook, before I took my new position. But, since I am a diehard Brewers fan, I knew she would understand. Thankfully, I didn't leave my favorite blue shirt in my office. I believe that Jennifer would have let her keep it as a souvenir. That shirt has been featured in many Diamond Nexus videos!" said Kyle Blades, Director of Marketing.
"Beth and I have had long conversations over the course of years about jewelry she ordered or wanted to order. She is an extremely kind hearted person who has been wonderful to work with. She has custom pieces made with the Nexus Design Studio and also many jewelry items from our website as well. Beth has made family and friends all into die-hard Diamond Nexus fans too, which is really something that speaks to our quality and her love for Diamond Nexus," commented London. " We are so appreciate to have fans like her!"
Diamond Nexus was founded in 2004 with the purpose of bringing to the public the powerful benefits of the lab-created diamond simulant revolution. They have over 250,000 customers worldwide that have awarded them an "A+" rating with the BBB, and are the ninth largest online jewelry retailer in America according to the 2011 IR500 list. For two years in a row brides from The Knot have selected them as their Best of Jeweler. Diamond Nexus currently has two retail locations: their flagship store at Woodfield Mall in suburban Chicago, Illinois, and a second store at Mayfair Mall in Milwaukee, Wisconsin. In 2009 the company was named the official jeweler and crown maker of the Miss Universe Organization as part of NBC/Universal's "Green is Universal" environmental initiative.