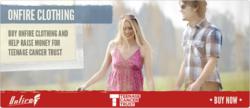 MandMDirect is the first major retailer to donate a percentage of their eBay sales directly to a charity on an on-going basis
Leominster, Herefordshire (PRWEB UK) 18 April 2012
Leading online fashion retailer MandMDirect is set to give a significant boost to Teenage Cancer Trust by donating 20 percent of sales from its Onfire clothing range to the charity. The discounted fashion and sports brands retailer has entered an innovative partnership with eBay which will see one fifth of the sale price of selected Onfire branded item listed in its popular eBay store, go to the charity. The funds raised will help provide specialist facilities for young people with cancer across the country.
"eBay for Charity enables our 17 million UK visitors to support good causes when they buy and sell on the site and thanks to the generosity of our users over £33m has already been raised for 6,000 UK charities. MandMDirect however is the first major retailer to donate a percentage of their eBay sales directly to a charity on an on-going basis. We're thrilled to be working with them on this ground-breaking partnership to raise funds for Teenage Cancer Trust." Commented Lorin May, eBay Head of EU Charity and Sustainability.
Mike Tomkins, Chairman of MandMDirect and Patron of Teenage Cancer Trust, commented "Teenage Cancer Trust does invaluable work and we are extremely proud to be supporting them again. During the past seven years we've managed to raise over £860,000 for the charity through employee fundraising events and product donations, and we're now looking to hit the one million pound target with this latest partnership".
To view MandMDirect's eBay shop and see the complete Onfire range including charity listings: http://stores.ebay.co.uk/MandMDirect
-ENDS-
For More Information:
Susannah Aldred
M: 07714107346
E: saldred(at)mandmdirect(dot)com
Notes to editors:
About Teenage Cancer Trust
Teenage Cancer Trust is the only UK charity dedicated to improving the quality of life and chances of survival for the six young people aged between 13 and 24 diagnosed with cancer every day. We build specialist units within NHS hospitals bringing young people together to be treated by teenage cancer experts in a place designed just for them. We want every young person with cancer to have access to this specialist support, no matter where they live.
Traditionally treated alongside children or elderly patients at the end of their lives, young people can feel extremely isolated during treatment, some never meeting another young person with cancer. Being treated alongside others their own age can make a huge difference to their whole experience.
Teenage Cancer Trust also educates young people and health professionals about cancer to ensure a swift diagnosis and referral to specialist support. Cancer in young people is rare but we want young people to know the common signs and symptoms so they can seek medical advice if they are worried.
We rely solely on donations to fund our vital work. You can help transform the lives of young people with cancer. Visit http://www.teenagecancertrust.org to find out how.
Teenage Cancer Trust is a registered charity, no. 1062559 (England and Wales) and SCO39757 (Scotland).
About MandMDirect
MandMDirect is one of the largest online discount clothes retailers in Europe.
Over the last 25 years the company has been dedicated to delivering the biggest fashion and sports brands at the lowest prices.
Through consistently living the company's core values MandMDirect has attracted over one million active customers, receives 34 million visits a year to their website and has been awarded a number of prestigious accolades in the retail industry; including Etailer of the Year in the 2010 Drapers Etail Awards. To find out more visit http://www.mandmdirect.com/
About eBay:
Founded in 1999, eBay.co.uk is the UK's largest online shopping destination, providing a platform for over 17m unique users per month to buy and sell new, unique an used items in a fun and easy way.
eBay has around 40m live listings on the UK site, with fixed price good accounting for the majority (61%) of items sold globally.
Sellers of all sizes, including, 180,000 registered business and over 100 well-known brand and retailers use eBay.co.uk to reach the UK's largest online shopping audience.
The eBay fashion Outlet sells products from over 30 high street brands at up to 70% off the recommended retail price.
Over 4m shoppers regularly look for Clothing, Shoes and Accessories on eBay.co.uk. Transaction volume on eBay Fashion grew 30% YoY over 2010, outstripping the market.
eBay for Charity helps charities of all sizes to raise funds by trading on the eBay marketplace. It also gives over eBay.co.uk's 17 million unique visitors per month a secure and efficient way of donating to a charity of their choice when they buy or sell on the site. Donations from eBay users are collected and regranted by MissionFish, a registered charity No. 1110538).
To date, £33m has been raised for over 6,400 UK charities.