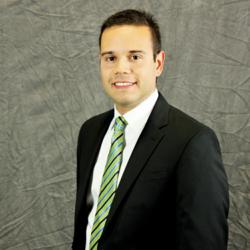 Soma's successful model of refurbishing medical equipment from the top manufacturers in the industry and offering up to 60% savings off of the original manufacturers' price is especially vital in Latin America, where operating budgets are tight
Bloomfield, CT (PRWEB) April 17, 2012
Rafael Bolívar is a marketing professional with experience in administration. Having grown up within a medical family in Caracas, Venezuela, he offers a broad understanding of healthcare issues, international communications and cultures, politics and economic influences, allowing him to fully embrace the opportunities present in emerging markets throughout Latin America and abroad. In Venezuela, he was a distributor and facility owner of an American network marketing company within the nutrition and wellness industry, and he later moved to the United States to expand his business and continue his education in business administration and marketing, where he obtained an associate's and a bachelor's degree, respectively.
Now his talents are being put to good use at Soma Technology, where he recently helped launched campaigns for ventilator and cardiovascular equipment in Africa and Southeast Asia, a branding campaign in Europe, and several campaigns throughout Latin America. Together with Dr. Maria E. Cazco, Soma's Regional Sales Director for Latin America, he worked to help develop a communication campaign to promote one of Soma's charitable programs in Latin America. His focus in future projects will include building networking opportunities with medical equipment dealers and group purchasing organizations throughout Latin America.
These relationships will maximize the single-source medical equipment solutions offered by Soma Technology. Soma's successful model of refurbishing medical equipment from the top manufacturers in the industry and offering up to 60% savings off of the original manufacturers' pricing is especially vital in Latin America, where operating budgets are tight. Soma has found that Latin American healthcare providers prefer the confidence that comes with the trusted technologies associated with the top equipment manufacturers such as GE Medical Systems, Dräger, Criticare, Medtronic-Physio Control, Zoll Medical, Mac Medical, and Axia Surgical over lesser known brands and brands from abroad.
To learn more about Soma Technology's products and services, call 1-800-GET-SOMA or visit the company website at http://www.somatechnology.com.
About Soma Technology, Inc.
As a leader in the medical equipment market, Soma Technology, Inc. specializes in outfitting healthcare facilities with high-quality new and refurbished medical equipment. Soma can equip an entire OR suite or hospital project or replace a single piece of equipment. Soma purchases medical equipment from hospitals throughout the United States and refurbishes it to OEM standards with its team of international biomedical engineers. This process has earned Soma a coveted membership with IAMERS, whose standards in professionalism and ethical business practices reserves membership for the most ethical dealers, lessors, and refurbishers in the medical equipment field. In addition to refurbished equipment, Soma also distributes an impressive line of new equipment from top manufacturers including GE Medical, Dräger, Medtronic-Physio Control, Zoll, Stryker, Philips, Steris, Axia Surgical, and more. Soma offers everything including anesthesia machines, patient monitors, defibrillators, surgical tables, surgical lights, patient monitors, electrosurgical units, scalpels, tourniquets, sterilizers, C-Arms, C-Arm tables, portable x-ray machines, ultrasounds, heart/lung machines, ventilators, EKG machines, stress test systems, EEG machines, infusion pumps, and so much more. Soma Technology, Inc. has become a market leader because of its commitment to industry advancements while maintaining the highest level of customer satisfaction.