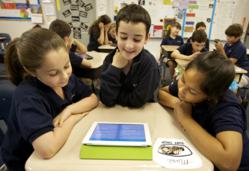 I have seen this app make reluctant readers excited about reading.
Cooper City, FL (PRWEB) April 17, 2012
Educators are using a new book app, Brush of Truth, to encourage tweens to read and inspire them to write.
Released by Story Bayou, Brush of Truth is an interactive storybook app for kids 8-12. The app is the first in a series developed by a mom looking to interest kids in reading through their love of gadgets.
Written in second person, "your" voice, Brush of Truth casts the reader as the main character, letting them choose how the action unfolds at critical points in the plot. Users reach an ending, go back and make new choices to explore a different path.
Brush of Truth has 65 decision points and 20 possible endings. It is $1.99 and available on the iPad, iPod touch, iPhone, Kindle Fire, as well as Android and Windows smartphones and tablets.
Parenting journalist Julie Landry Laviolette, mom of a 9- and 11-year-old, wrote Brush of Truth and created its parent company, Story Bayou.
"A book app takes the concept of an eBook one step further, because it lets kids choose what happens next in a story," Laviolette said. "The interactive nature of Story Bayou not only gets kids to read, it engages them by allowing them to choose what happens next. As a mom, I look for tools that will help my kids become lifelong readers."
Fourth-graders at Beth Emet Elementary School in Cooper City, Fl. were the first to use the app in class.
"Brush of Truth gives students an opportunity to become part of a story. With technology being such a large part of our everyday life, being able to incorporate it into the classroom is a bonus," said Nikki Letts, an elementary school reading and curriculum specialist at Beth Emet Elementary. "I have seen this app make reluctant readers excited about reading. It's our job as educators to help make reading a part of a student's everyday life and if doing it via apps on tablets, iPhones, or iPods is the way to do it, then it's our job to provide them with the opportunity."
Mary Ann Cabrera, a speech pathologist at Oakland Park Elementary School in Fort Lauderdale, uses Brush of Truth to inspire her fifth-grade students to write their own multiple-ending adventures.
"Brush of Truth is great for vocabulary, visualizing and predicting. We work on summarizing skills after each section," Cabrera said. "The stories keep the interest of my students and they can't wait to find out what will happen next. It's also fun to have the kids write their own 'Brush of Truth' adventures. It's really encouraging them to broaden their horizons with vocabulary."
Brush of Truth introduces an enchanted paintbrush that two kids find while playing on a beach. They soon learn it is the long lost Brush of Truth, created by a medieval sorcerer to transfer his powers to his children. The kids began to uncover the paintbrush's powers as they go on different adventures.
"Kids love the idea because they love being in charge," Laviolette said. "Parents also love the concept because they can hand their smartphone to the child and the child can be reading instead of playing another video game."
Story Bayou, founded in 2011, partnered with Linxter, Inc., a Cooper City software engineering company, to create the mobile app. Julie Landry Laviolette is a mom, writer and freelance journalist who contributes to The Miami Herald, South Florida Sun-Sentinel and more than 30 regional parenting magazines in the U.S. and Canada. Brush of Truth is Laviolette's first work of fiction. The app was released in February 2012