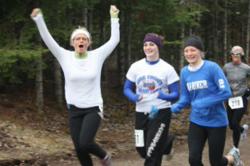 Grand Marais, Minnesota (PRWEB) April 17, 2012
Minnesota's Gunflint Trail winds its way through the Superior National Forest and is surrounded by the Boundary Waters Canoe Area Wilderness. Granite outcroppings, lakes and streams dot the landscape when the pine trees thin out enough to see into the woods. It's not just a road it's a National Scenic Byway and on one special day it's a race course for the Ham Run Half-Marathon.
The race begins 46 miles from the nearest town of Grand Marais, Minnesota that sits on the shore of Lake Superior. It travels a gravel road for one mile before following the last 12 miles of the Gunflint Trail to the end of the Trail. This route is the same route the Ham Lake Fire took in 2007, hence the name, the Ham Run.
Each year the race celebrates the "Greening Up" of the Gunflint Trail. Runners see first hand how fast the forest recovers from a wildfire as they run the path the Ham Lake Fire took. They also see the supportive community of Cook County Minnesota as locals cheer them on during the race.
The whole community comes out to ensure a safe and fun race for everyone. Mike Prom, Gunflint Trail resident and Fire Chief of the Gunflint Trail Volunteer Fire Department says, "Our GTVFD volunteers love to assist with this race because it's a way to give back to the community as so many people did during the Ham Lake Fire." Race profits are given to local non-profits who volunteer to help out at the event. "It's a great way to support each other and a healthy lifestyle," Prom says.
If the Half-Marathon sounds like too much then there's also a 5k Fun Run or Walk for people to participate in. Regardless of which race a person chooses all participants are treated to a guess what kind of dinner afterwards? Yep, a ham dinner at the end of the Trail. Just another reason this race is not a run of the mill race. The organizers hope you'll run the Trail less Traveled during the 5th Annual Ham Run.