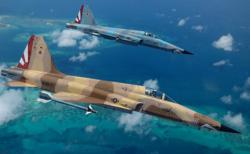 Fort Lauderdale, FL (PRWEB) April 17, 2012
Rob Ceravolo, CEO of Tropic Ocean Airways, will fly his fighter jet over Fort Lauderdale when the Air Show returns April 28th and 29th. His previous appearance in the spectacular Fort Lauderdale Air Show was in 2006, when he flew the last F-14 Tomcat flyby of Fort Lauderdale. The Tomcat, a jet made famous in the 1986 movie TOP GUN, was retired four months later.
This year Rob will be performing two high-speed passes in the Navy's F-5N Tiger II. The F-5N is used by the Navy Adversaries, all experienced fighter pilots and TOP GUN graduates, to simulate foreign threat tactics and train U.S. fighter pilots in Air Combat.
"It is a tremendous honor to again fly in my hometown show," Rob said. "When I flew the F-14 over Fort Lauderdale in 2006 I cherished every moment. I had no idea I would have the opportunity to do it again!"
Rob is no stranger to the skies over South Florida. He and his dad, a longtime doctor at Holy Cross Hospital who passed away in 2003, flew together weekly when he was young. Taking off from Fort Lauderdale they would always turn south and fly down the beach to Miami and back. The last time he saw his father was at the Fort Lauderdale Air Show in 2003.
Now, his Tropic Ocean Airways seaplanes cross the shoreline almost daily, carrying passengers from Miami or Fort Lauderdale to Bimini or Key West. Tropic is the only seaplane airline serving Bimini, dropping passengers off at the North Bimini seaplane ramp. Although the company was founded in Key West while Rob was on active duty, he joined the Navy reserves in 2011, giving him the free time to pursue his dream and help the airline grow.
"The Fort Lauderdale Air Show will always have a special place in my heart," Rob adds. "I've attended almost every show from 1995 to 2007…missing only two because I was on an aircraft carrier both times! It was an annual event for my family and friends…and the last place I saw my dad. I think all of South Florida is excited to see the show return, and I'm blessed to be a part of it."
About Tropic Ocean Airways Inc
Founded by a U.S. Navy TOPGUN in 2009, Tropic Ocean Airways continues to differentiate itself from other airlines. The first to bring back seaplane service to Bimini since 2005, Tropic Ocean Airways, a carbon-neutral company, continues to outpace its competitors in the Bahamas and the Florida Keys by offering superior customer service, safety, and professionalism. http://www.flytropic.com