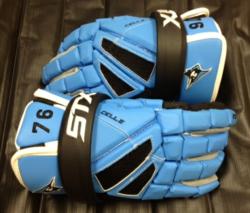 Baltimore, MD (PRWEB) April 17, 2012
STX, LLC, a global sporting goods leader, announced that it has reached an agreement with Johns Hopkins University that will extend the company's status as the Exclusive Equipment Provider to the Blue Jays Lacrosse program.
"With almost every manufacturer in the industry vying for the right to outfit the Blue Jays, STX is extremely proud to continue our involvement with Johns Hopkins," commented Jason Goger, STX General Manager. "Outfitting our sport's greatest athletes is a challenge that STX gladly accepts."
STX has been the official equipment provider of the Blue Jays for over a decade. However, the firm's relationship with the school extends back to the early 1950s, when company founder Richard B. Tucker Sr. played lacrosse for Johns Hopkins. This recent extension formalizes the cooperative endeavors of the two parties. As part of the agreement, Johns Hopkins athletes will continue to exclusively practice and compete in custom-designed STX gloves, arm guards, arm pads, heads and handles.
"The Johns Hopkins and STX partnership combines two of the great names and traditions in the sport of lacrosse," said David Pietramala, head coach of the Johns Hopkins men's team. "Steeped in the heritage and history of our game, Johns Hopkins and STX strive to be at the forefront of the fastest growing sport in our nation. We look forward to working closely with STX in our pursuit for our next national championship; a goal we both share!"
With this partnership the Johns Hopkins team will also take part in STX research, development and testing of new products and technologies. "Having one of the nation's top college teams rigorously test our products ensures that if it says 'STX,' it will perform in all aspects and at all levels," said Chris Morea, men's product manager at STX. "Having some of the nation's top players test our gear provides STX with extremely valuable feedback that helps guide our design and development efforts."
STX is a global leader in sporting goods hard-goods, including the sports of lacrosse, field hockey and golf. Since its 1970 introduction of the first synthetic lacrosse stick ushered in the "modern era" of lacrosse, STX has been universally recognized for its technological innovations in product design and development. STX continues to strive for new standards in competition-level sporting goods equipment. For more information, visit http://www.stx.com.