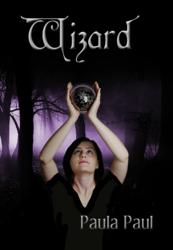 In a world corrupted by acceptance, could you be yourself?
Newport, Rhode Island (PRWEB) April 18, 2012
The book has been released simultaneously in traditional paperback and e-book formats and is available at the publisher's website at http://www.coolwellpress.com as well as Amazon and Barnes and Noble.
Magic is nothing more than unmasking the impossible.
A young wizard from sixth-century Britain who is the heroine of a young adult fantasy novel by Paula Paul wants more than anything to believe that. The novel, Wizard, will be published this month by Cool Well Press and will be available from Amazon, Cool Well Press, and in Barnes and Nobel Bookstores.
Meghan, the fifteen-year-old sister of a teenage Merlin in sixth-century Britain is the heroine of the novel. She's is a wizard, too, although she's not supposed to be. It's disgraceful for a girl to be a wizard. A girl can only be a witch. It's so disgraceful, in fact, that Meghan is bullied, and her life is threatened.
"I wanted to write a story about being different and how threatening that can be, but I didn't want it to sound preachy," Ms. Paul said. "I decided the best way to do that was to put some elements of humor in the story, so I made Meghan a bungling, out-of-practice wizard who accidently gets transported to twenty-first-century America and who gets into some tight situations she creates herself."
But there's nothing funny about being bullied and threatened, Ms. Paul admits. "I created a friend for Meghan who is gay and whose life is made miserable by being bullied and having his life threatened. I wanted the characters in the book and the readers as well to see that hating and bullying someone for being different makes no sense. The whole point of the book is for all of us to see how ridiculous our reasons for hatred are."
Ms. Paul is also the author of the Alexandra Gladstone mystery series that has been re-issued by Cool Well Press. Wizard is her first young adult fantasy novel.
About Cool Well Press
Cool Well Press offers its readers a variety of genres including fantasy, mystery, science fiction, suspense, historical, Young Adult, and non-fiction. Cool Well Press strives to bring you the best and brightest authors and stories that will touch your heart, open your mind, and keep you thinking long past The End. For more information, please visit Cool Well Press at http://www.coolwellpress.com. For the latest, follow @coolwellpress on Twitter.