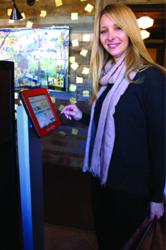 The iPad kiosks were a HUGE success!
(PRWEB) April 17, 2012
iPad Enclosures is proud to have donated their staff, time, kiosk hardware and software to Operation Smile, an award-winning charity dedicated to helping children across the world get reconstructive surgery for facial deformities like cleft palates and cleft lips. The event was held March 30-31 and was chaired by Access Hollywood's Billy Bush and NBC President Jennifer Salke.
The fundraiser took place at Park City's Canyons Resort, drawing supportive celebrities and athletes from all across the country and organizing them into competitive ski racing teams. Each team comprised of an Olympic athlete and a celebrity, and remaining spots on the teams were sold to sponsoring businesses to raise money for Operation Smile. Additional funds were raised through donations from VIPs in attendance. On site donations were facilitated by Operation Smile's partnership with iPad Enclosures who managed the iPad kiosks for both pre- and post-race VIP receptions.
The iPad Enclosures staff worked from start to finish along side the directors of this high profile charity to pull off their event fundraiser. The kiosks comprised of the Evolve iPad enclosure, mounted securely to a Sentinel stand. Each kiosk was also stocked with a battery backup, caster wheels, and were tied to a Verizon MiFi Mobile hotspot to enable optimal mobility as they were transferred to several locations throughout the event by the iPad Enclosures staff.
Each iPad device displayed Operation Smile's donation page through a closed browser app, which restricts users from leaving the desired website or navigating to different sites. The iPads were also managed with mobile device management (MDM) software, which allows for multiple kiosks to be controlled remotely from a single master interface. Celebrities and other attendees at the VIP receptions were able to use the state-of-the-art iPad kiosks to first watch a video about the important work Operation Smile is doing around the world, and then easily key in their donations.
"The iPad kiosks were a HUGE success!" said Dee Dee Sides, Operation Smile Sr. Development Director.
The iPad kiosks made it simple for Operation Smile to communicate their message and receive immediate feedback and support, to the tune of over $200,000 in surgeries and treatments for 800 children in need. Both iPad Enclosures and Operation Smile are excited to continue their partnership and look forward to organizing similar events in the future.
iPad Enclosures is an ArmorActive company. For more information on iPad Enclosures and their services, please visit their website at http://www.iPadEnclosures.com.