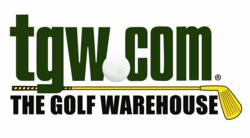 We are excited about our partnership with Eagle Golf as they have the same level of commitment to customer service and quality products on which The Golf Warehouse has built its reputation.
Wichita, KS (PRWEB) April 17, 2012
TGW.com - The Golf Warehouse®, a division of Redcats USA and the world's #1 online golf retailer, announced today that the company has partnered with Eagle Golf, developing shopping web sites for 28 of its golf courses.
Eagle Golf is a golf management company that is committed to creating an excellent customer experience at all of the golf courses it currently manages. Under the new partnership, The Golf Warehouse has launched 28 individually customized and branded shopping websites in collaboration with Eagle Golf, providing its member courses a world class shopping website overnight. Each website is branded with the course logo, name and unique identity; however, The Golf Warehouse will be responsible for the fulfillment of orders, as well as responding to customer inquiries via phone, email and live chat.
The customized websites offer 40,000+ SKUs, which is 95% more product than what is typically offered in an on-site pro shop. Even more, the partnership is a win-win business initiative for both companies as The Golf Warehouse experiences increased traffic generated by Eagle Golf, and Eagle Golf benefits from TGW's expertise and 'beginning to end' implementation of a premier shopping website.
Click on the links below to view some of the Eagle Golf shopping websites powered by TGW:
http://cowboysgolf.eaglegolf.com/
http://canyonspringsgc.eaglegolf.com/
http://golfclubatcincoranch.eaglegolf.com/
http://forestparkgc.eaglegolf.com/
"We are excited about our partnership with Eagle Golf as they have the same level of commitment to customer service and quality products on which TGW has built its reputation," said Patrick Livingston, Vice President, Consumer Direct, The Golf Warehouse. "The positive impact will be felt immediately as every course managed by Eagle Golf now has a personalized, robust website with thousands of products for its clientele to shop from 24/7."
"Eagle Golf is extremely excited about partnering with TGW and their ability to power our e-commerce Eagle course websites, as well as our e-commerce Eagle Golf corporate site," said Joe Munsch, President/CEO, Eagle Golf. "The revenue potential, the depth of product and selection that TGW offers and the overall presence this brings to Eagle Golf as a Golf Management company is unprecedented."
"We can't carry everything in our Pro Shops. From a product offering perspective, we believe this is a tremendous benefit we are offering our members and loyal guests," said Jeff Caraway, Director of Retail, Eagle Golf. "As an added service, when loyal Eagle patrons visit their Eagle course website to book a Tee Time or check for a Schedule of Events, they can now shop for all their Golf needs right through the course website."
TGW.com - The Golf Warehouse® is a premier sporting goods brand in the portfolio of Redcats USA, offering the largest and broadest selection of golf products in the world, including: golf equipment, golf shoes, apparel, accessories, personalized golf items and customized golf clubs. TGW.com - The Golf Warehouse® also has three specialty websites: SoftballSavings.com, BaseballSavings.com and SoccerSavings.com.
About Redcats USA
Redcats USA is a dynamic, web-driven home-shopping leader with numerous successful brands and specialized e-commerce sites in its portfolio: OneStopPlus.com®, Woman Within®, Jessica London®, Roaman's®, fullbeauty.com, KingSize®, BrylaneHome®, Bargain Catalog Outlet – BCO®, The Sportsman's Guide® , Bargain Outfitters®, Boating Savings®, Work Wear Savings®, TGW.com - The Golf Warehouse®, Baseball Savings®, Softball Savings® and Soccer Savings®. Redcats USA offers a wide range of value and quality driven merchandise categories, including men's and women's plus-size apparel, home and lifestyle products, and sporting goods/outdoor gear. Redcats USA is a Redcats company.
About Redcats
Redcats is a leading worldwide online retailer for fashion and home furnishings. The group gathers 17 European and US based brands in 31 countries: Woman Within®, Jessica London®, Roaman's®, KingSize®, BrylaneHome®, OneStopPlus.com, The Sportsman's Guide®, TGW.com - The Golf Warehouse®, Ellos, La Redoute, Vertbaudet, Cyrillus, Somewhere, Daxon, Stella McCartney Kids and Castaluna. In 2010, Redcats generated 3.436 billion euros of sales including 54% on Internet and employs over 14,000 associates. Redcats distribution network combines more than 70 e-commerce sites, nearly 600 stores and around 30 catalogues for 26 million active customers. Redcats is a PPR Company. For any further information: http://www.redcats.com
Contact Information
Karen Davis
Corporate PR & Communications
Redcats USA
Karen(dot)davis(at)redcatsusa(dot)com
212-502-9315