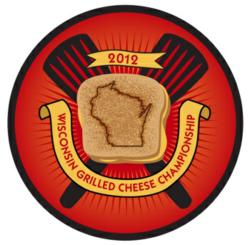 The contest provides a great way for us to celebrate and promote Wisconsin's dairy industry. We expect the competition to be stiff and the sandwiches to be delicious as we crown the first-ever Wisconsin Grilled Cheese Champions
Madison, WI (PRWEB) April 16, 2012
Spatulas up! In conjunction with the Wisconsin Milk Marketing Board (WMMB), the Iowa County Area Economic Development Corporation (ICAEDC) will celebrate National Grilled Cheese Month by hosting the first annual Wisconsin Grilled Cheese Championship (WGCC) on Saturday, April 21. Amateur and professional grilled cheese makers will compete in pursuit of the perfect grilled cheese sandwich from 10 a.m. to 2 p.m. at the Iowa County Fairgrounds in Mineral Point, Wis.
"As the nation's leading producer of cheese, it seems only natural that Wisconsin would have its own Grilled Cheese Championship," said Patrick Geoghegan, senior vice president of corporate communications for WMMB. "The contest provides a great way for us to celebrate and promote Wisconsin's dairy industry. We expect the competition to be stiff and the sandwiches to be delicious as we crown the first-ever Wisconsin Grilled Cheese Champions."
Competitors can enter one sandwich in up to two of the four competition categories, which include "Classic" Bread and Cheese, "Classic" Plus One Ingredient, "Classic" Plus Extras and "Classic" Dessert Sandwich. All entries must use real Wisconsin Cheese as the primary ingredient.
Sandwiches will be judged on taste, presentation and style by four local judges. Judges include Katie Wirkus, 2012 Alice in Dairyland; Pam Jahnke, the Wisconsin Farm Babe; Dani Maxwell, anchor at 27 News Wake Up Wisconsin; and Head Judge John Johnson, chef instructor at Madison College.
Prizes will be awarded in the amateur and professional division for first, second and third place in each of the four categories. Best in Show honors also will be presented to the top overall sandwich in the amateur and professional division. Amateurs will be eligible for prize packages, including limited edition cookware, tickets to exclusive cheese industry events, and WGCC-sponsor gifts, while professionals will be competing for trophies and bragging rights.
For those who prefer eating grilled cheese instead of cooking, spectators are invited to witness the battle behind the grill live. In addition to fierce competition and grilled cheese galore, attendees will enjoy live music, door prizes, beer, wine and tomato soup.
Participation costs $10 per category for amateurs and $20 per category for professionals. The competition is limited to 40 amateurs and 20 professionals, and pre-registration is required for all competitors via Eventbrite at http://grilledcheesewisconsin.eventbrite.com/. Although general admission tickets are free, spectators also are encouraged to pre-register using Eventbrite.
The Championship was created by Dr. Lorin Toepper, executive director of Economic and Workforce Development at Madison College and chair of ICAEDC, as part of an economic development strategy designed to recognize the valuable role the dairy industry plays in the state's economy.
For more information including definitions, limitations on ingredients, supplies and entry kits, and detailed descriptions of various sandwich categories, please view the official rules at http://www.grilledcheesewisconsin.com.
About Wisconsin Milk Marketing Board:
Wisconsin Milk Marketing Board is a nonprofit organization of Wisconsin dairy producers that promotes the consumption of milk, cheese and other dairy products made in America's Dairyland.
About Iowa County Area Economic Development Corporation:
Established in 2009, the Iowa County Area Economic Development Corporation is a nonprofit 501(c)6 organization dedicated to business development. Its mission is to be a leader in economic development for all of Iowa County by facilitating meaningful activities that promote growth, retention and prosperity. ICAEDC serves the people and businesses of the Iowa County area by developing economic opportunities with tools, training and resources. For more information on the ICAEDC, please visit http://www.iowacountyedc.org.