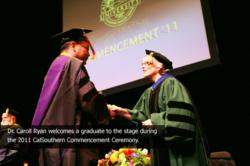 Irvine, CA (PRWEB) April 17, 2012
California Southern University has announced that its 34th annual commencement ceremony will return to Cheng Hall at the Barclay Theater in Irvine, California. The event will be held on Saturday, August 4, 2012, at 2:00 p.m.
Each year, graduates of CalSouthern—an accredited online university located in Irvine, Calif. offering undergraduate and graduate degree programs in business, psychology, and law—gather to attend the commencement ceremony, with many traveling from across the nation and around the world.
In 2011, approximately 500 people attended the event, including CalSouthern graduates, family and friends, along with faculty and CalSouthern administration, who all gathered to celebrate the graduates' accomplishments. The graduates—ranging in age from 22 to 75 and representing the full spectrum of ethnic and economic backgrounds—included successful entrepreneurs, groundbreaking marriage and family therapists, a recipient of the Daughters of the American Revolution's Medal of Patriotism, and even a sitting judge, among many others.
The 2012 commencement promises to be an even more impressive event.
"Commencement is the single-most important event of the year at CalSouthern," says University President Dr. Caroll Ryan. "It gives the deans, faculty, and other university staff the opportunity to honor the students that we have worked with so closely and come to know so well as they've progressed through their academic careers. Without fail, it's a wonderfully moving and inspirational ceremony."
This year marks the third consecutive year the event has been held at the spectacular Barclay Theatre, a nationally acclaimed and imaginatively designed performing arts showcase. The 750-seat Cheng Hall is renowned for its superb acoustics and intimate feel.
Details and registration information about the 2012 California Southern University Commencement Ceremony can be found online at http://www.calsouthern.edu/commencement.
Established in 1978, California Southern University is a premier online university offering accredited degree programs at the associate, bachelor's, master's and doctoral levels in psychology, business, criminal justice, and law to an international student body, utilizing a proprietary online learning system. CalSouthern is accredited by the Accrediting Commission of the Distance Education and Training Council. The Accrediting Commission is listed by the U.S. Department of Education as a nationally recognized accrediting agency and is a recognized member of the Council for Higher Education Accreditation.
http://www.calsouthern.edu/content/press-releases/california-southern-university-announces-2012-commencement-date/