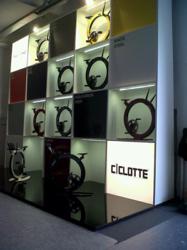 CICLOTTE: Ride on Design
New York, NY (PRWEB) April 16, 2012
CICLOTTE, the innovative exercise bike combining design and technology, is at the Temporary Museum for New Design in Milan ( Superstudio Più, via Tortona 27), presenting its latest editions.
The two main novelties just launched at FuoriSalone are a super-light steel version (hence the name "Steelish" given to the installation), and an accessory able to integrate on Ciclotte the ultimate electronic infotainment devices. The colors chosen for the new line (which follows the limited edition by Roberto Cavalli), are red, white and grey, but it is also possible to customize the frame with a wide palette of nuances. "Steelish" confirms its new approach to fitness, expressing emotions in color, now with a more attractive price.
The other feature of "Steelish" is the Tablet/Smartphone holder, an accessory that allows new functions:

increased level of entertainment during the ride, providing the user the possibility to watch movies, listen to music or simulate a virtual ride on roads and paths through special applications installed on their own device;
comfortable horizontal handlebars, in alternative or addition to the vertical ones in carbon fiber of Ciclotte, thanks to the lateral ends of the accessory made of a special non-slip plastic;
an enhanced integration of Ciclotte and other electronic devices (a receiver connected to the tablet and a cadence sensor attached to the pedal crank), providing information about current speed, average speed and distance traveled.
Ciclotte is a luxury exercise bike, designed and Made in Italy combining idea, form and technology and represents a complete innovation in the fitness sector. Designed by Luca Schieppati and manufactured by the Lamiflex Group (Bergamo, Italy), Ciclotte addresses a target market of dynamic users that appreciate both physical and aesthetic lines into their everyday living. For additional information please visit http://www.ciclotte.com
U.S.A. press contact: Daniela Puglielli (Accent PR): (908) 212-7846