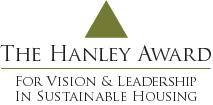 "We are pleased to honor Sam Rashkin's lifetime of work in sustainability and housing," said Hanley Award founder Michael Hanley of The Hanley Foundation and former chairman of Hanley Wood LLC.

Washington, D.C. (PRWEB) April 17, 2012
The Hanley Foundation announced today the 2012 recipient of The Hanley Award for Vision and Leadership. Sam Rashkin, architect, urban planner, and the driving force behind the Environmental Protection Agency's Energy Star for Homes program since its inception in 1995, is the third recipient of this prestigious award and will be honored in Washington, D.C. on May 17. The $50,000 prize honors individuals who have demonstrated extraordinary, lasting, and far-reaching contributions to the advancement of sustainable housing in the United States.
Previous Hanley Award recipients are architect and environmental advocate Edward Mazria, who founded Architecture 2030, and Alex Wilson, who founded and leads BuildingGreen LLC.
"We are pleased to honor Sam Rashkin's lifetime of work in sustainability and housing," said Hanley Award founder Michael Hanley of The Hanley Foundation and former chairman of Hanley Wood LLC. "The judges look for a person or organization that have not only made a big difference with one project, but have a track record in sustainability over their careers. The world is using up energy resources at an alarming clip. Because such a big percentage of energy is involved in housing, making a difference here will have a profound positive effect in energy use. Incremental savings and life cycle cost savings, particularly in a home, can do good for the planet and for homeowners' pocketbooks at the same time."
The award will be presented at the Hanley Award Dinner May 17, 2012 at the National Building Museum in Washington, D.C. during the American Institute of Architects' National Convention and Design Expo.
Sam Rashkin created the first national residential energy rating system in the country. During his tenure at the EPA, Rashkin brought the Energy Star for Homes program to 9,000 builder partners and led it to become the most widely recognized and adopted certification program in the industry. Rashkin has served on the national steering committees for the USGBC's LEED for Homes, NAHB's Green Building Guidelines, and EPA's WaterSense label, and is on the development team for EPA's Indoor airPlus certification label. He is currently the Chief Architect for the U.S. Department of Energy's Builder's Challenge program. He is the author of Retooling The U.S. Housing Industry: How It Got Here, Why It's Broken, How To Fix It.
Rashkin was selected from this year's slate of nominees that included visionary architect Peter Calthorpe; Dennis Creech of Southface Energy Institute; Rosanne Haggerty, founder of Common Ground; Robert Hammon of ConSol; the International Living Future Institute based in Portland, Ore.; New Orleans-based Make It Right Foundation; innovative green builder John Wesley Miller; John Tooley of Advanced Energy Corp.; and industry pioneer Steven Winter of Steven Winter Associates.
Nominations were submitted by the 2012 nominating committee members: Dave Bell, MASCO Environments for Living; Michael Bell, The Bell Company; Eden Brukman, International Living Future Institute; and Kelsey Mullen, U.S. Green Building Council.
The Hanley Award judges this year included award founder Michael Hanley of The Hanley Foundation; Frank Anton, CEO of Hanley Wood; Alex Wilson, BuildingGreen; Gail Vittori, co-director of the Center for Maximum Potential Building Systems; and Jacob Atalla, senior director of sustainability initiatives for KB Home.
Learn more at http://www.ecohomemagazine.com/green-resources-and-awards/awards/.
About The Hanley Foundation
The Hanley Foundation is a non-profit foundation that provides funding for housing, environmental and other causes. Michael Hanley, retired chairman and co-founder of Hanley Wood, started the family foundation in 1999. The Foundation supports local entities helping provide shelter, like Friendship Place in Washington, D.C., the Boys and Girls Clubs of Greater Washington, and the Chesapeake Bay Foundation, along with many others. In 2009, The Foundation established The Hanley Award.
About Hanley Wood
Hanley Wood, LLC, is the premier media and information company serving the housing and commercial design and construction industries. Through its operating platforms, the company produces award-winning magazines and Web sites, marquee trade shows and events, market intelligence data and custom marketing solutions. The company also is North America's leading publisher of home plans. http://www.hanleywood.com