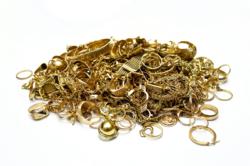 Now customers can get a great price with a straightforward and transparent service at speedycash4gold.com
London, UK (PRWEB) April 18, 2012
Selling scrap gold has never been as popular, due to the price of the metal and the tough economic conditions. Speedycash4gold.com is challenging the market with it's customer centric proposition, enshrined in a Customer Charter. They pride themselves in helping people make informed decisions when selling their scrap gold, using tools such as their interactive cash for gold calculator and comprehensive gold hallmark guide.
Their CEO Ed Porter states, "We believe this approach is the best way of securing long term customer relationships, we want our customers to get a good deal." With many satisfied customers, speedycash4gold.com is leading the way in this endeavor.
The cash for gold industry can serve a useful function as the price of scrap gold has risen exponentially over the past 11 years. With the UK economy slowing and potentially experiencing a double dip. CEO Ed Porter suggests, "Our proposition allows people the chance to avoid the spiral of increased debt, and free up cash to pay for important bills".
Ed believes in empowering customers to make informed decisions quickly. This is achieved with the help of the interactive cash for gold calculator using slider technology, and detailed gold hallmark guide. Their promise is to pay the day they receive their customers scrap gold in the post. Postage is free to the customer, and it's contents insured for up to £2500 pounds. Speedycash4gold.com can pay via bank transfer, cheque, or cash.
The company was founded by individuals who have a background in precious metal refining. The approach is to offer an honest and transparent customer experience and to endeavour to offer the best prices in the market for scrap gold. Every transaction, shall adhere to the speedycash4gold.com Customer Charter. The CEO went further and stated, "These 10 principles in the customer charter are the basis of every action we take, when dealing with our customers".
The prices speedycash4gold.com quotes are based upon the global gold price. They have strong relationships with precious metal refiners and so can offer some of the best prices for scrap gold in the market.
For more information please contact speedycash4gold.com on 020 8349 7282 or eporter(at)speedycash4gold(dot)com