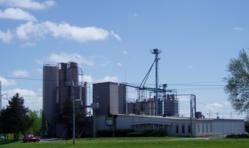 "Matt Lamberti, project manager, is credited with the work and on-going maintenance of PharmTech International's SFSF certification."
Des Moines, Iowa (PRWEB) April 23, 2012
PharmTech International, located in Des Moines, Iowa, has been awarded the Safe Feed/Safe Food Certification administrated by the American Feed Industry Association.
The SFSF certification represents the facilities demonstration and continuing improvement in delivering safe, wholesome livestock feed for the growth and care of animals. This one-of-a-kind, voluntary program has resulted in the certification of over 300 feed related facilities. Certified facilities go above and beyond federal requirements to ensure the highest standards in manufacturing and processing every day. In fact, SFSF certified facilities exceed FDA regulations in 43 out of 47 categories.
PharmTech International, a division of Dynamite Marketing, inc., based in Meridian, Idaho, has plants located in Des Moines and Westside, Iowa. As a successful participant in AFAI's program, the Des Moines, IA facility is now entitled to use the SF/SF logo on products. Plans are being made to have the Westside, IA facility certified as well.
Joel G. Newman, AFAI president and CEO said, "PharmTech International should be commended for showing leadership in this important program. The employees have gone the extra mile to demonstrate a strong commitment to food safety and offer reasons to their customers and consumers for increased confidence in the products they provide. The companies participating in Safe Feed/Safe Food are making outstanding efforts."
AFIA's Safe Feed/Safe Food Certification Program is open to livestock feed, pet food manufacturers, ingredient suppliers, integrated producers, meat processors, feed purchasers, livestock producers, renderers, and others who want to validate a commitment to food safety through pro-active leadership. It signifies that qualifying companies have embraced the feed industry's role in creating feed-based safety programs. They are doing their part to reduce food safety risks, are participating in an approved risk-management program, and are aggressively practicing risk reduction.
PharmTech was purchased by Dynamite Marketing, Inc. in 2008 to increase its production capabilities as well as extend their animal feed market to the Midwest, East Coast and overseas. Dynamite has been manufacturing health and nutritional products for nearly every member of the animal kingdom for over 30 years. Their vision of innovation guided by nature, backed by science, has made them a front runner in the field of supplements for both humans and their pets. PharmTech manufactures both proprietary and custom products for their customers. They believe that healthy, productive animals mean a safe, sound food supply. Their most popular products are OCM Global and Finisher Pac. The plant's 18 employees work under the direction of Steve Hartung, General Manager. "Everyone takes pride in their role at PharmTech. We have a staff committed to doing the job right."
Hartung credits project manager, Matt Lamberti, for creating and maintaining the PharmTech standard operating procedure book, which repeatedly left an impact on the inspectors. "Matt has done an impressive amount of research and documentation to make sure Pharm Tech is safe, legal, and current with the ever changing regulations, including the on-going training of all employees regarding these standards."
AFIA, based in Arlington, VA., is the national organization devoted exclusively to representing the business, legislative, and regulatory interests of the animal feed industry and its suppliers. In addition, they are also the recognized leader on international industry developments. Members include approximately 500 domestic and international companies as well as state, national, and regional associations.