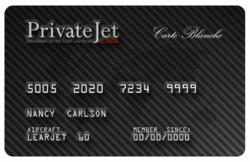 Atlanta, Georgia (PRWEB) April 17, 2012
Offering provides private jet travelers with guaranteed lowest pricing, added flexibility and newer aircraft.
-No broker commissions.
-No more $100,000-$200,000 deposits. Low $25,000 membership fee.
-Introductory offer provides five percent off hourly rates for an entire year.
-Very Light Jet pricing starting at $1500.00 per hour, Light Jet pricing starting at $2500.00 per hour, and Mid-size Jet pricing starting at $3500.00 per hour.
To provide a better way to personalize private jet travel options, the Private Jet Charter Club Jet Card program—operated in conjunction with only Argus Platinum U.S. air carrier companies—is now opening its doors to new members. Created for those with varied travel requirements, the PrivateJet.com Private Jet Charter Club program gives card holding members access to as many private jet flight hours as they need—along with an unlimited travel calendar—onboard high-performance Phemom, Hawker 400XP or Hawker 800XP aircraft.
"The new PrivateJet.com Charter Club's membership option provides a seamless way for travelers to fly 'on-demand' on some of the youngest aircraft operating on any jet charter certificate while being supported by PrivateJet.com's world-class concierge and customer service groups," said Kenneth R. Starnes, CEO PrivateJet.com.
After meeting the buy-in requirement of $25,000, new PrivateJet.com Charter Club members will receive a carbon fiber jet card in the mail. Why is the card made of carbon fiber? "We think the combination of its strength, durability and sleek look adequately represents the quality of the product and services we aim to provide," said co-founder Randall Da Costa. Benefits of the program include having the ability to lock in fixed pricing on charters for each membership year, having access to an exclusive destination club partners' inventory of real estate and resorts, access to private, invitation-only events and a host of other private charter related bonuses. The PrivateJet.com Card program also boasts a call out time of as little as 24 hours, competitive pricing and fixed hourly rates with no long-term commitment or up-front capital costs. The program also guarantees 365-day availability on the Phenom 100, Hawker 400XP, Hawker 800XP aircraft with advance reservations, and no blackout dates; access to Heavy aircraft is provided on an as-available basis. The flight cost is then charged to the customer in a convenient 10-day billing cycle. Customer Account Managers are available around the clock to assist with all personal travel arrangements, from scheduling the aircraft to catering and ground transportation.
As an added membership bonus, customers who join the PrivateJet.com Membership Jet Card program before May 30, 2012 will receive a five percent discount on published hourly rates for the first year, saving thousands depending on the aircraft. Under the program's satisfaction guarantee, any customer who is not completely satisfied with the PrivateJet.com Membership Card program within 15 days of the first flight segment will be refunded the membership fee immediately.
For more details or to purchase a PrivateJet.com Membership Jet Card, visit http://www.privatejet.com or http://www.privatejetcard.com call 855.359.8677 to speak with a PrivateJet.com Jet Card program Sales Director.
About PrivateJet.com and Nations Luxury Transportation
Nations Luxury Transportation is an aggregator of business models that service the luxury consumer. By rolling private jet charter, limousine and catering services into one unit, the group has managed to do what few others have done in the industry and that is to create a truly seamless end-to-end experience for the consumer. At a lower entry point to other jet card programs, the Nations Luxury Transportation group's "Carbon Fiber is the New Black" concept, (an actual carbon fiber all access card to nationwide jet charter flights at cost) has completely eliminated broker fees and other superfluous surcharges for members. "The goal is to build relationships," said Starnes, "and the way to do that is to be completely transparent."