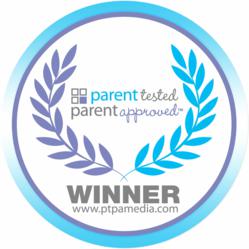 Seeing the PTPA Winner's Seal on a product package or website helps consumers identify products that have been tested and recommended by their peers
Toronto, Ontario (PRWEB) April 17, 2012
Parent Tested Parent Approved is proud to announce its newest Spring winners! Whether it's a fashionable Rock•ease necklace from Teethease, a new City Mini GT stroller from Baby Jogger, the Most Complete Student Success System from EduNova for your teen or the tasty new snack Just Fruit & Grains from SunRype, if you see their Seal of Approval on it, you know it's exceptional.
PTPA Media has North America's largest parent tester community – a credible third party resource for parents with over 60,000 volunteer parent testers.
"Seeing the PTPA Winner's Seal on a product package or website helps consumers identify products that have been tested and recommended by their peers. It's like shopping with your best friend," says PTPA Founder and CEO, Sharon Vinderine.
Since 2008, PTPA has evaluated thousands of products and services from leading manufacturers and emerging brands. Because independent families evaluate these products in their own homes, PTPA winners are chosen based on merit and consumer experience – not on commercial considerations.
PTPA Media is a recognized source by the media for credible and reliable recommendations. Recognized TV personality, PTPA Founder and CEO Sharon Vinderine has presented PTPA Award winners on over 50 morning shows including the Rachael Ray Show, Fox and Friends, Canada AM and Global.
Here are just a few of the innovative new products to receive the PTPA Winner's Seal of Approval for their most recent 2012 campaigns:
T-fal steamer/blender: ideal to prepare healthy and balanced meals for your baby, keeping them both full of vitamins and full of flavor.
Purex UltraPacks simplifies laundry with its pre-measured packs while Purex Crystals offer you a new way to have fresher laundry for weeks, not days, naturally!
Kobo Vox eReader is more than just reading books – it has interactive entertainment for anytime, anywhere: Read, play games, listen to music, download apps and much more!
Ooma Telo with Ooma Premier Service providing crystal clear home phone service through your existing broadband internet connection to save you money!
Summer Solutions workbooks will have your child feeling more confident about their abilities in school and help them ease back in to the next school season.
QuickCover by Sure Fit helps your sofa or love seat stay protected from food and drink spills, pets, jumping kids, and more. It's waterproof and washable!
Enfamil A+ is the closest formula to breast milk available. It contains DHA and ARA to keep baby healthy and happy. Available in a refillable container that Moms love!
Also being celebrated as recent outstanding award winners are the AfterSkate™ Wipes which help your skates stay clean and sharp, a handy Twist-It Mosquito Repeller which can attach to almost anything, an interactive dinner mat by Your Chat Mat –that will help get conversations started at the dinner table.
For a complete list of award winners, visit the Latest & Greatest 2012 section on the newly updated website.
About PTPA Media Inc.
PTPA Media provides an objective framework for appraising and promoting new products designed to enrich family living. The company's mission is to marry innovative companies with discerning consumers, to improve consumer access to quality products and services for their families and homes.