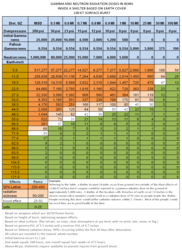 What Standard Is Your Underground Shelter Designed To?
Forney, TX (PRWEB) April 18, 2012
PRINCIPLES OF PROTECTION, The US Handbook of NBC Weapon Fundamentals and Shelter Engineering Design Standards, Sixth Edition 2012, 707 pp, Walton McCarthy M.E. is now available. This is considered the bible on underground shelter engineering standards. This is the only book available that tabulates all nuclear weapons effects based on size and distance from ground zero. This table was developed with the help and cooperation of SAIC and the Department of Energy. Walton McCarthy is the principle engineer and president of Radius Engineering International Inc., the largest and leading underground shelter company in the world now in its 32nd year.
The book is available at http://principlesofprotection.net. The first edition of the book was written 20 years ago because the general population did not have a guideline to design shelters by. McCarthy receives many phone calls weekly from people who think they have safe shelters only to realize that, for example, they have only 18 inches of earth over the ceiling of the shelter which is not sufficient even if the shelter is located 50 miles away from a small kiloton nuclear weapon. (see attached table). For anyone considering buying or building a shelter, one should always ask, "What standards were used to design this underground shelter?"
Adequate earth or concrete is needed over the ceiling of an underground shelter for radiation shielding, controlling shelter temperature, resistance to hydrostatic pressure, resistance to ground shock from earthquakes and weapons, and resistance to intruder assaults. The minimum shelter earth cover is 44 inches or 31.2 inches of concrete even if the shelter is designed to be 25 miles away from ground zero of a 100 KT terrorist weapon. At this distance with 44 inches of earth cover or 31.2 inches of concrete, the shelterists will experience 15 rems which is below the established maximum of 25 rems inside the shelter. The table is a summary of radiation doses and earth shielding.