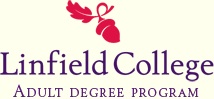 "In my situation there were very few opportunities for growth in my former line of work and obtaining a Post Baccalaureate Accounting Certificate was one way for me to set my career on a new path." - Brian Roberts
McMinnville, OR (PRWEB) April 17, 2012
Linfield College Adult Degree Program announces the offering of three business oriented online certificates for the busy professional. The online certificate programs made available now provide an avenue for continuing education to enable students to boost their careers through gaining new knowledge, updating their skills and networking with other adult students. Designed for adult students looking to make themselves more competitive professionally, Linfield's online certificate programs offer busy adults the perfect online format to advance their education and earn professional recognition in a given specialty while balancing life, work, and family commitments. Linfield College offers three online certificate programs: a Post Baccalaureate Accounting Certificate, a Marketing Certificate, and a Human Resource Management Certificate.
Earning a Post Baccalaureate Accounting Certificate prepares professionals who want to qualify for positions in public accounting, government and non-profit accounting and corporate accounting. Many graduates of this program have qualified to take the CPA exam in their state to become Certified Public Accountants. All courses are taught by Linfield College accounting instructors who have extensive experience in the accounting profession and teach to industry and board of accountancy standards. The specialized knowledge that is gained with the Linfield Post Baccalaureate Accounting Certificate will enhance students' career opportunities and increase their earning potential.
Brian Roberts, Linfield Adult Degree Program student, had this to say about earning his Post Baccalaureate Accounting Certificate online, "I would recommend this approach for adults who are trying to open new doors for their career. In my situation there were very few opportunities for growth in my former line of work and obtaining a Post Baccalaureate Accounting Certificate was one way for me to set my career on a new path."
The available Human Resource Management Certificate Program is designed to equip students with the knowledge and skills necessary to contribute to any business, whether one is an office manager or a part of the human resources team. Small business owners and entrepreneurs will also find this program valuable in managing their businesses. According to the U.S. Government Bureau of Labor Statistics, demand for HR professionals is expected to grow much faster than average in the next decade compared to other fields.
Linfield's Marketing Certificate offers students a comprehensive overview of the marketing field. Students can be newcomers to marketing or someone with experience seeking to keep current in the field or expand their knowledge base. An entrepreneur or small business owner will also find this program valuable in marketing their business. All of the courses focus on marketing research, planning and strategy. Electives let you focus on topics that will benefit you the most.
Certificate programs made available by Linfield College are of shorter duration and are less expensive than degree programs, and they can be a good choice for adults who are transitioning into a new role or career. Each of the Linfield College online certificate programs is comprised of four to six courses for which academic credit is awarded and a diploma issued. Online classes are available 24/7, making them perfect for students that demand flexibility and with Internet access you can work from anywhere in the world.
For more information on how you can begin earning your online certificate today, contact Linfield College.
About Linfield College Adult Degree Program
Chartered in 1858, Linfield College is one of the first colleges in the Pacific Northwest and is regionally accredited by the Northwest Commission on Colleges and Universities. The Division of Continuing Education's Adult Degree Program offers adults the opportunity to earn a bachelor's degree or certificate in both online and hybrid (combination online and classroom) settings.
Online programs offered by Linfield College Adult Degree Program include an accounting degree, management degree, marketing degree, social sciences degree, arts and humanities degree, RN to BSN degree and international business degree and certificates in accounting, human resource management and marketing.