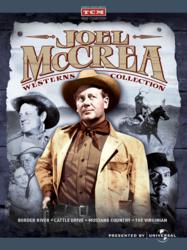 I always felt so much more comfortable in Westerns. The minute I got a horse and a hat and a pair of boots on, I felt easier. (Joel McCrea)
(PRWEB) April 24, 2012
The Joel McCrea Westerns Collection features the iconic star of Preston Sturges' Sul­livan's Travels, George Stevens' The More the Merrier, Alfred Hitchcock's Foreign Correspondent and Sam Peckinpah's Ride the High Country in a quartet of exciting adventures. The titles range from 1946's The Virginian to 1976's Mustang Country, the actor's last film; all four titles are in Technicolor and are available on DVD for the first time.
In The Virginian (1946), McCrea stars as Owen Wister's wandering man of few words who finds himself going up against an old friend (Sonny Tufts), who has joined a band of rustlers led by Brian Donlevy. Co-stars include Barbara Britton and Fay Bainter.
McCrea is a veteran trail boss who takes a railroad tycoon's spoiled son (Dean Stockwell) under his wing in Cattle Drive (1951). The young man learns important life lessons under the old hand. Chill Wills and Leon Ames also star.
In Border River (1954), Confederate officer McCrea and his men nab millions in gold bullion and head south-of-the-border to buy guns and ammo for the South, only to battle a ruthless Mexican general (Pedro Armendariz). Yvonne De Carlo is featured.
Mustang Country (1976), McCrea's final film, finds the 71-year-old actor cast as a former rodeo star who helps a Native American boy round up and tame a wild horse. Robert Fuller, Nika Mina, Patrick Wayne are also in the cast.
The Joel McCrea Westerns Collection is being released in conjunction with Turner Classic Movies.
Movies Unlimited is one of the world's oldest and most reliable video retailers of DVD and Blu-ray titles, specializing in hard-to-find movie classics. The Joel McCrea Westerns Collection can be ordered through their web­site at http://www.moviesunlimited.com or by calling 1-800-4-MOVIES. The Philadelphia-based company also publishes their annual encyclopedic 800-page Movies Unlimited DVD Catalog.
For further information, please contact: Irv Slifkin (215-637-4444, ext. 6113) irv (at) moviesunlimited (dot) com