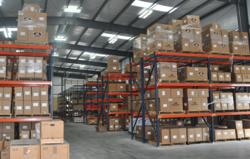 We want to be your one-stop-shop for all your material handling needs.
Houston, TX (PRWEB) April 17, 2012
ProservCrane Group has opened doors to a new parts and accessories warehouse fully stocked with thousands of ready-to-ship overhead crane parts.
The facility boasts 12,000 sf. of warehouse space and houses over 10,000 parts, accessories, hoists and other crane components for any manufacturer of overhead crane. Products include items such as wire rope hoists, chain hoists, lever hoists and end trucks. And, major brands like Shaw-Box, Yale, Detroit, CM, Budgit, Coffing, R&M, Stahl and more.
"Our extensive market research opened our eyes to new opportunities to better serve our existing clients. By stocking packaged products we will make the availability and ordering of hoists, crane parts and accessories more accessible to our customers." says Brad Wilson of ProservCrane Group.
The new building is located at 16008 Spence Rd., across the street from ProservCrane's corporate offices and next door to Greenspoint Machine Works, a full-service machine shop also owned by ProservCrane. The parts depot was purposely built near ProservCrane's machine shop to help support customer requests for obsolete crane parts.
"No matter how old or which crane manufacturer, if we do not stock a part there's a pretty good chance that our machine shop can reproduce it. Not every crane company has the capabilities we have to service our clients. We see this as a great opportunity to help our customers as well as grow our business." says Wilson.
Also, in 2012, ProservCrane plans to launch a crane parts e-commerce site that will further expand their parts and accessories business.
"We want to be your one-stop-shop for all your material handling needs." adds Wilson.
Founded in 1987, ProservCrane Group, an industry leader in overhead crane technology has supplied many of the world's largest Fortune 100 companies as well as smaller startup businesses with the highest quality overhead crane products and services in the material handling industry. ProservCrane designs, builds, installs and services customized overhead crane systems that include: jib, floor, single and double girder and gantry models.