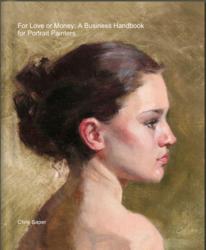 There's an enormous pool of talented, fabulous and completely unknown portrait artists out there – anonymous simply because they were never taught the business skills required to market their work.
Phoenix, AZ (PRWEB) April 17, 2012
People often say, "I'd love to commission a portrait- but wouldn't it cost me an arm and a leg?" Actually, it would.
This familiar saying has been around since John Singer Sargent's time, and remains today the basis upon which most portrait artists price their work. As in many skill-based professions, the portrait artist's fee structure reflects the amount of time required for the task. "Painting a pair of hands often takes me as long as as it does to paint the face," explains artist Chris Saper.
Understanding the concepts of pricing, marketing, and presenting artwork effectively can be overwhelming for many fine artists. Saper, a nationally recognized portrait painting instructor, will bring her background in strategic planning, marketing and client relations to the art classroom this month, teaching the course, "For Love or Money:Portraiture and the Pursuit of Excellence" for the Scottsdale Artists' School, April 23-26.
Saper understands well the importance of business planning. After 13 years of building her health care management career, Saper's first child was born in 1989. The following year she developed a plan to allow the transition between two seemingly diverse careers, and has been painting portraits professionally for over 20 years. "Virtually every skill I developed in the health care field applies to what I do now", says Saper, "from data analysis to proposal writing to public speaking."
She runs her classroom like a board meeting. In a recent evaluation, students were asked whether they received personal attention for the instructor. One student replied. "Incessantly!"
Over the past 22 years, Saper has delivered nearly 400 commissioned portraits to clients nationwide. She has most recently authored "Classic Portrait Painting in Oils: Keys to Mastering Diverse Skin Tones".