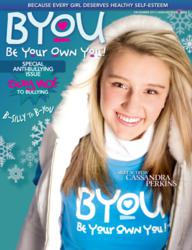 Denver, CO (PRWEB) April 16, 2012
On Saturday, April 21, 15-year-old actress and certified child safety advocate, Cassandra Perkins, will be participating in an informative national conversation on Internet safety as part of the National Day of Cyberbullying Awareness. This free live event will be held from 1:00-3:00 pm (MST) in Parker, CO, at the Parker Recreation Center, 17301 Lincoln Ave, Parker Colorado 80134, and will be streamed live nationally at events in eight others cities and online.
Perkins, who is starring in the upcoming movie, Bully Girls, and is a spokesmodel for the girls' self-esteem company BYOU "Be Your Own You" will be the first of nine panelists of core leaders in the community who are assembled to bring awareness of the dangers children face today on the Internet and offer expert tips to empower them to keep safe. The panel, titled "9 Lights in a Child's Life," also includes Mayor of Parker (CO) David Casiano, KHOW Talk Radio Host Tom Martino, Author/Self-Esteem Expert & CEO of BYOU "Be Your Own You" Debra Gano, Bureau Chief of Douglas County Law Enforcement Tim Moore, Wiz B.A.C.A Bikers Against Child Abuse, PTO President Barbara Chase, Good4Bizness Rolynda Tienda, and parent Babs Canacari.
Following the panel, Perkins will host Keeping Kids Safe: An Internet & Mobile Safety Workshop for adults & children addressing cyber-safety issues impacting today's youth and strategies for effectively dealing with these challenges to make safer & smarter decisions online. Complimentary parent packs provided for all who attend.33% of children have been cyberbullied, and most have not told a parent. Sexting, sending promiscuous sexual messages and photos via text, is another major issue on the rise. One in five U.S. teenagers have already received unwanted sexual solicitation online. According to a Cox Communications Teen Online & Wireless Safety Survey, 38% of teens have experience with cyberbullying and 20% have engaged in some form of sexting.
This event is hosted by BeanStalk and free to attend and ideal for teens, tweens, parents, caregivers, community leaders, and businesses. It is also streaming live at events in Kansas, Nevada, Tennessee, Idaho, Washington, Oregon, and Texas, and is available to watch via Web by registering at http://www.aBeanStalk.org.
About -- BYOU-Be Your Own You is a self-esteem apparel line, with a mission to improve girls' self-esteem worldwide by encouraging them to embrace the unique and authentic self they came to this world to be. Our goal is to diminish the need for girls to seek external validation and approval, and rather rely on their own inner strength in full awareness of their worth and inner beauty. Through our products and education, we empower girls to make positive choices for their health, safety, well-being, personal happiness, and contribution to community. Because every girl deserves a healthy self-esteem. For more information visit http://beyourownyou.com