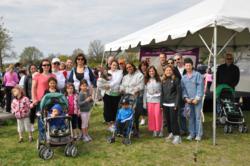 Greg Plage, Executive Director of the March of Dimes Fairfield County Division: "...RMA of CT's involvement has increased awareness of the March of Dimes mission."
Stamford, CT (PRWEB) April 17, 2012
As advocates of healthy, full-term pregnancies, Reproductive Medicine Associates of Connecticut (RMA of CT) believes in the March of Dimes and has supported its annual "March for Babies" fundraiser for three consecutive years. This year RMA of CT has expanded its sponsorship to two walks – one in Stamford, CT (April 29) and one in Danbury, CT (May 6). In addition to the sponsorship, RMA of CT is organizing a team of walkers, including staff, patients and colleagues from the OB/GYN and fertility fields.
For years RMA of CT has believed it has an obligation to make healthy pregnancies the practice's focus, not simply to get patients pregnant. As part of this objective, in 2012 the practice is dedicated to educating patients about improving their overall health during the 90 days before conception, including nutrition, stress management and physical activity. Practicing a healthy lifestyle decreases the risk of certain birth defects, as well as improves a patient's fertility.
"We are proud to sponsor March for Babies because the March of Dimes helps promote education about the causes of premature birth and birth defects," says Dr. Mark Leondires, Medical Director of RMA of CT. "Sometimes simple changes to a patient's diet and physical activity can improve her fertility and has the added benefit of decreasing a patient's risk of birth defects and long-term conditions such as diabetes and hypertension. We encourage patients to take advantage of all that we offer: complementary yoga classes, seminars and workshops led by our nutritionist, support groups facilitated by our mental health professionals, and more."
Greg Plage, Executive Director of the March of Dimes Fairfield County Division, says: "On behalf of all of the families served by the March of Dimes, I would like to thank RMA of CT for its ongoing commitment to our March for Babies campaign. RMA of CT's involvement has increased awareness of the March of Dimes mission and their continued support will help ensure that critical research and education will continue to benefit moms and babies in Fairfield County and across the nation."
To make a pledge to March of Dimes through the RMA of CT Team, please join us on the walk.
RMA of CT's next Preconception Wellness Seminar is taking place on May 5, 2012 at 11 a.m. at RMA of CT's Norwalk office at 10 Glover Avenue. For more information and a complete list of events, go to:
http://www.rmact.com/events
About March of Dimes
The March of Dimes is the leading nonprofit organization for pregnancy and baby health. With chapters nationwide, the March of Dimes works to improve the health of babies by preventing birth defects, premature birth and infant mortality. For the latest resources and information, visit marchofdimes.com or nacersano.org. Find us on Facebook and follow us on Twitter.
About RMACT
Reproductive Medicine Associates of Connecticut (RMA of CT) specializes in the treatment of infertility, including assisted reproductive technologies (ART) such as intrauterine insemination (IUI), in-vitro fertilization (IVF), and Comprehensive Chromosomal Screening (CCS). RMA of CT, Fairfield County's largest fertility clinic and egg donation center, is one of 11 leading In Vitro Fertilization (IVF) centers nationwide chosen by In Vitro Sciences to participate in its Centers of Excellence program. RMA of CT has offices in Norwalk, Danbury and Stamford, and affiliate New York fertility clinics serving Putnam and Dutchess counties. RMA of CT also offers infertility treatment financing and support services through RMA of CT Integrated Fertility & Wellness Center, such as nutrition counseling, psychological counseling, acupuncture and yoga.
The RMA of CT team of Board-Certified Reproductive Endocrinologists includes Drs. Mark P. Leondires, Spencer S. Richlin, Joshua M. Hurwitz and Cynthia M. Murdock. All physicians are members of the American Society for Reproductive Medicine (ASRM), the Society for Assisted Reproductive Technology (SART) and the Fairfield County and Connecticut Medical Societies. RMA of CT's IVF laboratory is accredited by the College of American Pathologists (CAP), and CLIA; other accreditations include the Accreditation Association for Ambulatory Health Care (AAAHC) and the American Institute for Ultrasound in Medicine (AIUM). For more information visit http://www.RMACT.com or find us on Facebook.
# # #