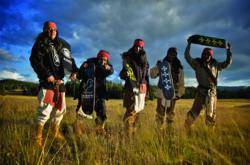 "Skate culture is a great lens to learn about both traditional and contemporary Native American culture," says Elizabeth Gordon, curator of Ramp It Up.
San Diego, CA (PRWEB) April 17, 2012
Showing for the first time outside the Smithsonian Institution, Ramp It Up: Skateboard Culture in Native America begins its 12-city national tour at the San Diego Museum of Man (SDMoM) on Saturday, April 28th, 2012.
The public is invited to attend the opening day event, which will feature guided tours by exhibition curator Elizabeth Gordon and professional skateboarding demonstrations on the half pipe mini skate ramp, which has been designed and built by Spohn Ranch Skateparks. Opening festivities are included in the price of regular admission. The Ramp It Up exhibition will be on display until September 9, 2012 at SDMoM.
The new exhibition features examples of skate decks from Native companies and contemporary artists, and rare images and video of Native skaters. It showcases the work of visual artists Bunky Echo-Hawk (Yakama/Pawnee), Joe Yazzie (Navajo), Traci Rabbit (Cherokee Nation of Oklahoma), and Dustinn Craig (White Mountain Apache/Navajo). Ramp It Up also traces the history of skateboarding, from its origins in Native Hawaiian communities, to the Southern California surf culture, to the rest of the United States and beyond.
"Skate culture is a great lens to learn about both traditional and contemporary Native American culture," says Elizabeth Gordon, curator of Ramp It Up. "This exhibition focuses on the Native skater as well as the Native elders, parents, government officials, and community activists who have encouraged their kids to skate."
Professional skateboarders (and brothers) Augustin Lerma III (Augie) and Armando Lerma (Mando) from the local Agua Caliente Band of Cahuilla Indians will be performing a professional demo on the half pipe mini-ramp, which will be built on SDMoM's South Balcony. Throughout the 4-month run of the exhibit, the mini-ramp will also be open to the public at selected times.
The exhibition includes rare 1973 home-movie footage of Zephyr surf team members Ricky and Jimmy Tavarez (Gabrielino-Tongva), and photographs of other iconic skateboard athletes. The Lerma brothers are featured in the Smithsonian exhibition, along with other local tribes, including the La Jolla Band of Luiseño Indians, the Pala Band of Mission Indians, and Gabrielino-Tongva.
Local support for Ramp It Up is provided by skateboarding nonprofit organizations the Tony Hawk Foundation and Elemental Awareness, as well as action sports brands 1031 Skateboards; Blackbox Distribution; deckstool; Dekline Footwear; Element; Fallen Footwear; Nike; Pro-Tec; and Spohn Ranch Skateparks. Also sponsoring the exhibition at SDMoM are the Barona Band of Mission Indians; KCM Group; Kenneth and Harle Montgomery Foundation, as recommended by Marnie Cheney; McKenna, Long, & Aldridge; the Pala Band of Mission Indians; Premise Immersive Marketing; Rick Engineering Company; the San Pasqual Band of Diegueno Mission Indians of California; the Sycuan Band of the Kumeyaay Nation; and Sports Medicine at UC San Diego Health System.
About SDMoM: AAM Accredited and Smithsonian Affiliate
Located beneath the ornate 200-foot California Tower, SDMoM is the city's only museum devoted to anthropology and archaeology. With its Spanish colonial and mission-style architecture, the landmark building was originally constructed for the 1915 Panama-California Exposition. Today, SDMoM is dedicated to using its world-class collections, dynamic exhibits, and compelling educational programs and events to fulfill its mission of "Inspiring human connections by exploring the human experience." For more information about SDMoM, please visit http://www.museumofman.org.
About Smithsonian Institution Traveling Exhibition Service (SITES):
SITES has been sharing the wealth of Smithsonian collections and research programs with millions of people outside Washington, D.C., for almost 60 years. SITES connects Americans to their shared cultural heritage through a wide range of exhibitions about art, science and history, which are shown wherever people live, work and play. Exhibition descriptions and tour schedules are available at http://www.sites.si.edu.
About the Smithsonian's National Museum of the American Indian:
The Smithsonian's National Museum of the American Indian is the first national museum dedicated to the preservation, study and exhibition of the life, languages, literature, history and arts of the Native peoples of the Western Hemisphere. Established by an act of Congress in 1989, the museum works in collaboration with Native peoples and communities to protect and foster their cultures by reaffirming traditions and beliefs, encouraging contemporary artistic expression and empowering the Native voice, http://www.AmericanIndian.si.edu.
###
For more information or to schedule an interview with SDMoM CEO, Dr. Micah Parzen, or the Exhibits Manager, Phil Hoog, please contact Hope Carlson at (619) 239-2001, ext. 16 or hcarlson(at)museumofman(dot)org