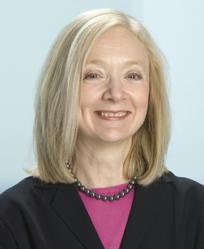 St. Louis, MO (PRWEB) April 18, 2012
Gail Appleson, Communications Editor at Armstrong Teasdale, is being honored by the American Bar Association's Litigation Section for her work as an editor of the First Amendment and Media Litigation website.
She will be recognized as an Outstanding Subcommittee Chair for the 2011-2012 Bar year at the Litigation Section's annual conference in Washington, D.C. on April 19. Her volunteer work for the ABA includes soliciting, editing and writing materials that are posted on the First Amendment website.
In addition to her role as editor at Armstrong Teasdale, Appleson serves on the firm's diversity and hiring committees. An experienced national legal journalist, Appleson is also a member of the ABA Law Practice Management Section's Diversity Committee.
Previously serving as the Reuters (now Thomson Reuters) national legal correspondent in New York City, Appleson had also worked as a journalist for the National Law Journal and American Bar Association Journal. Most recently, she was a reporter at the St. Louis Post-Dispatch and a recipient of the Missouri Bar's Excellence in Legal Journalism award. She received her B.A. with honors from Indiana University.
The ABA Litigation Section's First Amendment and Media Litigation takes an active interest in virtually every aspect of free speech rights including defamation, rights of privacy and publicity, media access to information and news events, reporters' and authors' rights, news-gathering torts, injunctions, gag orders, and prior restraints.
About Armstrong Teasdale: Armstrong Teasdale LLP, with more than 250 lawyers in offices across the U.S. and China and double-digit revenue growth in 2011, has a demonstrable track record of delivering sophisticated legal advice and exceptional service to a dynamic client base. Whether an issue is local or global, practice area specific or industry related, Armstrong Teasdale provides each client with an invaluable combination of legal resources and practical advice in nearly every area of law. The firm is a member of Lex Mundi, a global association of 160 independent law firms with locations in more than 100 countries, and the United States Law Firm Group, a network of 18 law firms headquartered in major U.S. cities. For more information, please visit http://www.armstrongteasdale.com.