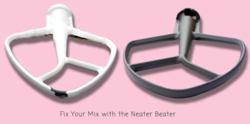 Simply stated our mission is to sell you one flat mixer attachment that never needs replaced – The Titanium Twister.
Lima, OH (PRWEB) April 19, 2012
The Titanium Twister was developed based on the need for a better coating on the flat mixer attachment included with the KitchenAid Stand Mixer. The KitchenAid Stand Mixers will last generations and fulfill a dream for many bakers. On the other hand, the flat paddle that comes with the mixer stand will not.
Why this coating is better
The coating becomes a part of the beater! Alodine EC² is a Ceramic Titanium Metal Oxide (TiO2) electrodeposited from the electrical assisted hydrolysis of metal complexes. This innovative coating, offers better corrosion and abrasion capabilities for a long lasting and durable replacement beater.
The Alodine EC2 coating has been tested and approved for food contact by the NSF®. While testing the performance of The Titanium Twister among many other similar products, it has been observed that the coating will not chip, blister, tarnish or scuff like other beater attachments.
About Titanium Twister
Our parent company has been involved in developing new coating technologies for well over 30 years. The Titanium Twister product was developed out of the need for a better coating on the mixer attachments included with KitchenAid Stand Mixers. What makes this attachment so special? It doesn't chip or tarnish and it can be washed in the dishwasher. Our mission is to sell one flat mixer attachment that never needs replaced – The Titanium Twister.
Visit us at http://www.thetitaniumtwister.com