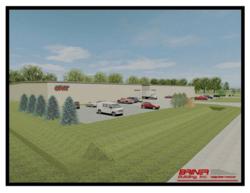 CNC Industries is investing $3.5 million in new equipment and will add up to 60 new positions.
Fort Wayne, Indiana (PRWEB) April 18, 2012
Due to strong demand for their services, CNC Industries Inc. is pleased to announce plans to expand their facility. The expansion will provide the space needed for additional equipment and personnel.
The company will be investing up to 3.5 million over the next three years and expects to add 10-20 jobs per year for the next several years. The investment will include a 22,000 sq ft expansion of their existing 35,000 sq ft facility as well as numerous new CNC machines.
CNC Industries has chosen Briner Building, Inc. as the general contractor for the expansion. Construction will begin as soon as the permits are obtained, with a scheduled completion by August 1, 2012.
This expansion will allow CNC Industries to take on additional business as well as shorten their lead time for new jobs.

CNC Industries is a Fort Wayne, Indiana based Job-Shop specializing in precision CNC machining, fabrication and assembly of application-critical and custom machined parts for the Aerospace, Defense, Medical, Industrial and Transportation markets. The company presently employs approximately 50 people.