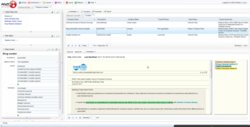 Traditional approaches fail to respond quickly to changing requirements and cannot accommodate sources such as news stories and public data found on the Web.
Boston, MA (PRWEB) April 18, 2012
For the second year in a row Cambridge Semantics will be a featured presenter at this month's BioIT World Conference & Expo in Boston, Massachusetts. In addition, the company will highlight its Competitive Intelligence Solution for biopharma companies as part of the event's New Product Showcase. Now in its tenth year, the BioIT World Conference highlights the latest innovations and technologies that are driving biomedical research and the drug development process. For more information on the event visit http://www.bio-itworldexpo.com/.
Featured presentation:
On Wednesday, April 25th Director of Product Management & Marketing and Semantic University Editor-In-Chief, Rob Gonzalez will present, "Semantic Web for Flexible Competitive Intelligence" at 2:45 p.m. Mr. Gonzalez will address how Semantic Web technologies are uniquely positioned to handle the diverse and ever-changing information needs of the pharmaceutical industry given their flexibility, maturity, and ability to manage both structured and unstructured data. He will also highlight how five of the top 10 pharmaceutical companies are using Cambridge Semantics' Anzo platform to deliver key competitive intelligence insights to stakeholders in R&D, business development, sourcing, and marketing.
New Product Showcase: Anzo Pharma Competitive Intelligence Solution
The Cambridge Semantics Competitive Intelligence Solution will be featured in the conference's New Product Showcase. Anzo is currently being used at some of the world's top biopharma organizations. R&D teams, business development, sourcing, marketing and knowledge management groups are routinely tasked with delivering up-to-date and relevant competitive intelligence information. Unlike traditional approaches, Cambridge Semantics enables these groups to easily route targeted information to the right people at the right time from the right sources. This includes unstructured data from publications and the Web in addition to structured data from internal databases or licensed sources such as Thomson Reuters. The innate flexibility of semantic-based technology also enables these groups to be up and running in a fraction of the time than traditional solutions.
Solution highlights include:

Unique Data Crawling and Access: Provides the ability to combine and harmonize information from many disparate information sources, such as web content – including social media, excel spreadsheets, and both subscription and internally developed databases.
Tailored Text Analysis: Enables users to extract information from unstructured text sources with analysis that is customized and tailored to the source of the content and the goal to be achieved.
Data Enrichment and Integration: Delivers a single, cohesive view of the key companies, compounds, development programs, drugs, and other key entities that drive decisions by tying together information from internal databases with up-to-the-minute information from public sources.
Repeatable Information Dissemination: Allows business analysts to use rules and workflows to aggregate competitive intelligence information, curate it, customize and personalize it, and disseminate it on an on-going basis.
"Those responsible for competitive intelligence at the world's largest pharmaceutical companies are often hindered by traditional approaches, which fail to respond quickly to changing requirements and are unable to accommodate information from non-traditional sources such as news stories, and public data found on the Web from sites such as ClinicalTrials.gov," said Lee Feigenbaum of Cambridge Semantics. "Semantic Web technologies are a proven alternative that can not only deliver the power and flexibility required to manage this diverse set of information, but can also enable end users to participate in the process, presenting them with data in plain English."
About Cambridge Semantics
Cambridge Semantics is the leading provider of semantic data management software for the enterprise that is designed to bridge the gap between business processes and data-driven business intelligence. Enterprises face an increasing need to quickly combine diverse data that crosses organizational boundaries in order to make better decisions and improve process efficiencies every day. Our Anzo software lets business users search for, virtualize, analyze, act on, and make decisions with any internal or external, structured or unstructured data. Based on the revolutionary flexibility of Semantic Web technologies, Anzo provides unprecedented ease-of-use, speed of implementation, and operational business process integration for just about any formal or informal business activity.
To learn more about Cambridge Semantics visit http://www.cambridgesemantics.com and check out our blog "Enterprise Semantics" or follow us on Twitter @CamSemantics.