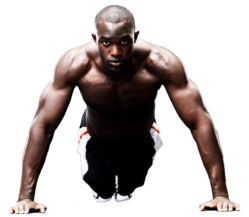 I see too many people who are dissatisfied with how they look and feel on a daily basis
Tempe, AZ (PRWEB) April 17, 2012
When planning their business models, local entrepreneurs Aaron Ormiston and Josiah Grimes set goals high with a clear standard for making a positive difference in the world using a home workout routine. "Victa creations is all about finding unique ways to bring out the best in the world around us," stated Aaron Ormiston. "A meaningful life does not revolve around clichés or superficial standards that society sets up to have purpose. Discovering how to become the best influence possible in the world around you is what holds that deeper meaning."
Josiah Grimes, co owner of Victa Creations LLC is an elite athlete with a similar drive to make his mark in the world in a powerful, uplifting way. "As a Coach and an athlete I see unlimited potential within individuals that many are not able to see and tap into for themselves." Aaron and Josiah came together with a common goal to help people implement changes that impact positively for generations.
While discussing the best way to arrange a business model that fulfills such a lofty purpose, they each arrived at the overarching goal to empower individuals through reasonable exercise. "I see too many people who are dissatisfied with how they look and feel on a daily basis" Aaron is excited to help unravel the mystery of personal motivation and power through exercise. "Too many exercise programs center around the exercises and neglect the real issue at hand – the long term effects of the entire program." Josiah and Aaron want to help move the world past the idea that fitness looks a certain way on the scale or wears only a specific pant size.
When considering the effects of exercise on the human psyche Ormiston and Grimes determined to put together a fitness program that incorporates the bigger picture of fitness. "We knew that we wanted to offer something that would be affordable, accessible and motivational." They have incorporated an online, personalized, home based program with fitness options at every level from the obese teen that needs to start moving to the rugged athlete who needs to attain maximum performance. Fitness is meant to address the needs of the whole person. Josiah and Aaron have partnered to bring this new kind of exercise program to the fingertips of as many people as possible, reframing the way fitness defines life.
Research indicates that exercise has a powerful influence on improving quality of life. "Longitudinal studies have also documented significant improvement in psychological functioning. Exercise routines reduces depression in healthy older men and in persons with cardiac disease or major depression. Exercise also improves self-confidence and self-esteem, attenuates cardiovascular and neurohumoral responses to mental stress, and reduces some type A behaviors. Although exercise training generally has not been found to improve cognitive performance, short bouts of exercise may have short-term facilitative effects.
Despite the positive physical and mental health benefits of exercise, long-term adherence to exercise programs remains problematic. It is estimated that only 50% of all persons who initiate an exercise program will continue the habit for more than 6 months. The issue of nonadherence is particularly important because exercise is only beneficial if it is maintained for extended periods of time. Thus, it is important to develop strategies to improve exercise initiation and adherence, especially for persons who are among the least active—some African-American women, the less educated, the obese, and the elderly." (ahajournal.org: A Statement For Professionals by the Committee on Exercise and Cardiac Rehabilitation of the council on clinical cardiology, American Heart Association).
With research indicators touting the many benefits of regular exercise it is time that Americans tapped into this practical way to become fit. Josiah makes it clear "Our goal is to make it as easy as possible to adhere to your personal fitness goals in order to get the most benefit, make the most of your life and make the world a better place!" For more information on Victa Creations LLC and how to incorporate the new definition of fitness contact Aaron Ormiston or Josiah Grimes at admin(at)homeworkoutpros(dot)com. Visit the website for more details today at homeworkoutpros.com. The Victa Creations LLC home workout office is located at 1 East Washington St. Suite 500A Phoenix, AZ 85004.