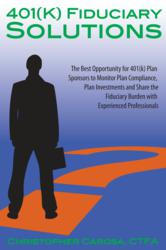 Mendon, NY (PRWEB) April 17, 2012
On Friday, April 27 Christopher Carosa, CTFA, chief contributing editor of FiduciaryNews.com, will present 401(k) Fiduciary Solutions, at the fi360 conference in Chicago. Carosa has written more than 300 articles on fiduciary and investing topics and is a successful investment and portfolio manager with three decades of experience. He enjoys sharing his knowledge with others facing similar 401(k) compliance issues, as well as other financial topics.
His recently published book, 401(k) Fiduciary Solutions is written for plan managers, sponsors and others with 401k plan fiduciary responsibilities and covers all aspects of 401k compliance. It is in a single reference source for 401(k) compliance. The "involved" plan participant – the employee – may also find the book a helpful source for advice on how to actively monitor plan performance and compliance with regulations.
Carosa describes the book's purpose as follows: "In an economy that demands focused attention, 401k plan sponsors need to focus on their business, not their employee benefits. Ironically, this same economic environment provides an ideal opportunity to create a retirement plan that can best help employees retire in comfort. Companies that achieve this ideal will find it easier to hire quality employees. How can 401k plan sponsors balance these two opposing forces? The answer most likely lies not within the walls of the company, but in its ability to outsource certain key fiduciary duties to recognized leaders in the fiduciary service industry."
Within the 320 page, book, readers will…

Learn the five areas of fiduciary liability.
See a template on how to best measure their plan against its benchmarks.
Read what experts say are the regulations that matter most.
Discover the best way to avoid hiring vendors with hidden, and not-so-hidden, conflicts-of-interest.
Learn what academic research suggests is the best way to help employees avoid making bad decisions.
Find out what industry pros are doing to create better 401k plans.
Follow an easy-to-implement approach to developing an effective education program.
Find an appendix filled with great resources and useful checklists.
You can read more of Chris's writing at fiduciarynews.com, Fiduciary Solutions goes on sale on Amazon.com beginning 4/27/12 for $34.95
If you would like to meet with Chris you can schedule an interview during fi360, by emailing him at ccarosa(at)chriscarosa(dot)com His phone number is 585.624.3150.
About the Author
After earning a degree in physics and astronomy from Yale University in 1982, Christopher Carosa joined a financial management firm. He went on to earn an MBA from the Simon School at the University of Rochester and the CTFA (Certified Trust and Financial Adviser) professional designation from the Institute of Certified Bankers. Today, Carosa is president of Carosa Stanton Asset Management, LLC, an investment and financial planning firm, and manages the Bullfinch Fund, a consistently high performing mutual fund that concentrates its investments in Western New York companies. Carosa wrote his first book, Due Diligence: The Individual Trustee's Guide to Selecting and Monitoring a Professional Investment Adviser, in 1999.
What Others Say
Harold Evensky, CFP, AIF, President, Evensky & Katz, Miami, Florida: "In Three Acts, Nine Sections, 80 Chapters and 320 pages, Chris provides a treasure trove of practical and invaluable information and insights for plan sponsors and financial advisors to 401K plans. If you wear either of these hats you MUST read this book."
Roger Wohlner, co-founder of Retirement Fiduciary Advisors based in Arlington Heights, IL and blogger at Chicago Financial Planner and for US News: "401(k) Fiduciary Solutions is a must-read for both organizations sponsoring a 401(k) plan and professionals who provide services to those plan sponsors... As one who serves as an advisor to a number of 401(k) plan sponsors Chris' book will serve me as a vital reference tool in the years to come.'
Mike Alfred, co-founder and CEO of BrightScope, Inc., San Diego, California: "The collection of material Mr. Carosa has compiled in 401(k) Fiduciary Solutions is nothing short of extraordinary. Chris digs deeply in to an expansive set of topics to extract the practical insights a diligent fiduciary can use on a daily basis as they work with their retirement plans."