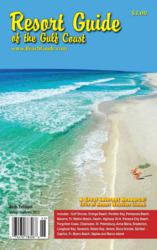 Coming to the beach is a darn good vacation, and one of the more affordable...
Destin, FL (PRWEB) April 17, 2012
It's the time of year when many think about slipping away for some quality time at the beach. They're ready to turn visions of relaxing in lounge chairs on the Gulf's sugar-white sands into reality. But everyone should beware – folks who procrastinate about making reservations this year may be in for a big disappointment.
So far, 2012 is shaping up as one of the best years in a decade for resorts in Gulf Shores, AL and Northwest Florida. That's good news for the property managers in these areas, which include Destin, Panama City Beach, and the towns that dot Highway 30A. They say they are getting record-breaking numbers of early bookings.
Jayna Leach, director of marketing for Sterling Resorts and Realty, confirmed that such is the case in Northwest Florida, where her company manages a number of popular resorts.
A spokesperson for BeachGuide.com, a travel Website that provides Gulf Coast beach vacation shoppers with up-to-date trip planning information, agreed. "It was a trend also this year that people booked earlier for Spring Break," she said. She added that because of the Hangout Music Festival, which is being held this year in mid-May, Gulf Shores and the surrounding areas have already been booked for months.
When asked if bookings were up this year overall in Gulf Shores, Bill Bender, broker/owner of Bender Realty, said, "Absolutely. Snowbirds, Spring Break, every category is up this year." In regard to snowbird bookings, Bender reported that occupancy was 74 percent in 2012 – up from 60 percent in 2011. He also reported that both Spring Break bookings and advance bookings were 20 percent ahead of last year's. "We've had record-breaking bookings overall," he said.
Bender attributes the increased number of bookings to the fact that the beach is both an attractive and an economical vacation option. "Coming to the beach is a darn good vacation, and one of the more affordable – a great alternative. People are not just settling. It's a really great vacation. People want to come here. There's no downside to coming here."
So the message, from Bender and the others, is to book now, or you may be left out in the cold. And while you're making reservations for this year's getaway to the Gulf, keep in mind that BeachGuide.com also has plenty of information on Destin Florida vacation rentals, Gulf Shores hotels, condos and beach houses, Panama City Beach hotels and condos, in addition to all of the smaller beach communities in the area – many of them only a short drive away from the busier destinations and well worth the trip.