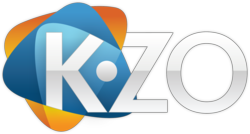 We have no better advocates for the KZO platform than our customers.
RESTON, Va (PRWEB) April 17, 2012
KZO Innovations (kzoinnovations.com), industry leader in video collaboration, has once again been included in Gartner's MarketScope Report on Video Content Management and Delivery (VCMD). This is the second year of the VCMD Report and thus, KZO Innovations' second inclusion. Gartner's VCMD Report, published April 2012, defines the VCMD market as "Software, appliances or software as a service (SaaS) intended to manage and facilitate the delivery of one-to-any on-demand video across Internet protocols".
"Our inclusion in Gartner's VCMD is an affirmation of our leadership position in the marketplace," said Jeff Fissel, Co-Founder and Vice President, Solutions of KZO Innovations. "We have the ability to deliver collaboration tools both in the public sphere and in a highly secure environment."
The VCMD report evaluated companies on several categories including: customer experience, innovation, and market understanding.
"The VCMD report truly captured the trust that our customers have in the KZO platform to collaborate within their business, increasing efficiency. Our customers have internalized KZO, they see KZO as a platform to help them evolve their business model and better serve their clients," said Wes Cruver, Chairman and CEO of KZO Innovations. "We have no better advocates for the KZO platform than our customers."
About KZO Innovations, Inc.
KZO Innovations is the leading provider of social collaboration software for business video. The KZO Business Video Suite is being used by Fortune 500 companies and government agencies to securely "Create" or upload video from any computer, "Share" video within any CRM, LMS, web portal or as a stand-alone video portal, and "Socialize" video by engaging viewers - letting them add comments, ask questions and get answers. KZO's interoperability with leading collaboration portals and learning management systems, including Salesforce and SharePoint, enables organizations to securely leverage the power of video with live and on-demand collaboration within a workgroup or across their entire global enterprise. The Suite consists of three integrated components that are compatible with major video formats including Flash and HTML5: KZO Virtual Studio, KZO Video Library and KZO Media Player. Business can visit KZO to trial the KZO Business Video Suite.
About the MarketScope
The MarketScope is copyrighted 2012 by Gartner, Inc. and is reused with permission. The MarketScope is an evaluation of a marketplace at and for a specific time period. It depicts Gartner's analysis of how certain vendors measure against criteria for that marketplace, as defined by Gartner. Gartner does not endorse any vendor, product or service depicted in the MarketScope, and does not advise technology users to select only those vendors with the highest rating. Gartner disclaims all warranties, express or implied, with respect to this research, including any warranties of merchantability or fitness for a particular purpose.