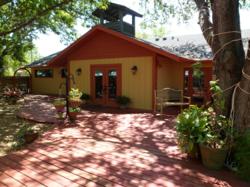 Yoga Village's Hatha Teacher Training will be led by some of the finest teachers in North America.
Clearwater, FL (PRWEB) April 17, 2012
"Innovative and dynamic." That's how Yoga Village of Clearwater, Florida's COO Ram Gian Singh describes the upcoming Hatha Teacher Training and internship program. "Our 200-hour Yoga Alliance Certified Hatha Yoga Teacher Training combines a solid grounding in yoga philosophy with an in-depth study of anatomy, and the practical applications of a breath-centered personal practice, led by some of the finest teachers in North America. It's awesome!"
YV lead teacher, Vandana, is the heart of the training and will lead ten weekends of breath-centered practices. Ram Gian brings Ivy League academic credentials in spiritual and religious literature (B.A. Columbia University), and decades of philosophical investigation, yoga and meditation practice to bear on our inquiries into the Yoga Sutras of Sri Patanjali, the Vedas, and other sacred texts. A seasoned entrepreneur and partner in Yoga Village, Ram also leads our "Business of Yoga" module, and will train our graduates to develop an action plan for successful careers as yoga teachers, some at Yoga Village. Leslie Kaminoff, an internationally recognized teacher and author of Yoga Anatomy will lead our online Anatomy studies.
Ready for a career in yoga? Call Kerry at A Yoga Village, Clearwater: (727) 712-1475 or visit the website for more information and an application.
Yoga Village of Clearwater has a main studio and three affiliate locations in Pinellas County, Florida, and is the premier yoga studio on the state's west coast. It offers classes, concerts and certification courses throughout the year, with Hatha and Kundalini Teacher Trainings scheduled to begin in September, 2012. Regular classes include Kundalini, Hatha, Hot, Amrit, Prenatal, Children's, and Restorative. Yoga Village is a community center for gatherings of all kinds. It is a beautiful place for spirit to grow.