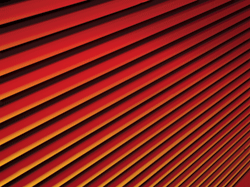 Cranford, NJ (PRWEB) April 25, 2012
Construction Specialties Inc. (C/S), international manufacturer of high-performing architectural specialty products, has been the industry leader of architectural grilles for over 50 years. They've recently added another offering to that impressive line of products – C/S Econo-Line.
Designed to be an economical solution to an architect's sight screening needs, Econo-Line provides the same vision barrier capabilities as other C/S grille products but has some unique features. It is delivered to the jobsite completely assembled, saving time and money on installation. Its thin line profile can add a distinctive look to any building and the closely spaced blades provide excellent security. The choice of either 1.6" or 2.4" blade spacing allows architects to specify the required amount of free area. Econo-Line is finished with C/S' environmentally-friendly, 100% fluoropolymer resin powder coat that contains no VOCs (volatile organic compounds) and has a 20-year integrity warranty (AAMA 2605).
Like all C/S vision barriers, Econo-Line can conceal everything from car lights in parking garages to rooftop mechanical equipment. C/S' complete line of architectural grilles also includes decorative sight screens, refacing systems and geometric grilles.
To learn more about Econo-Line and all C/S products, please call (800) 631-7379 or visit their website.
About Construction Specialties
Construction Specialties manufactures and sells specialty architectural products internationally, with over 30 offices and manufacturing facilities worldwide. Their products include interior wall and door protection, entrance flooring, expansion joint covers, louvers, grilles, sun controls, explosion vents, smoke vents, and cubicle track/curtains. The company serves architects and designers, building owners, facility managers and contractors. Construction Specialties, Inc. was founded in 1948 and is headquartered in Lebanon, New Jersey.