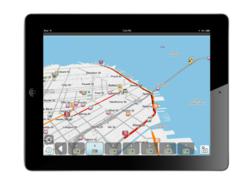 "ABC7 is excited to add Waze to our expanding set of tools to better report real-time traffic conditions."
Palo Alto, CA (PRWEB) April 16, 2012
Today, Waze, the now 15 million-strong community of traffic resisters is happy to announce a new HD interface for its popular citizen traffic reporting tool. Launched in 2011, Waze's Citizen Traffic Program gives broadcasters unprecedented insight into traffic conditions on freeways and secondary roads like never before.
A free smartphone app that taps into a local community of drivers sharing real-time road conditions, accidents, and hazards with each other to help give a driver's eye view of current and potential slowdowns, even on surface streets. With access to up-to-minute traffic information from drivers on the road, reporters can finally tell their viewers what's happening on the routes that matter to them.
Sign Up, Setup, & Launch
Using Waze is as easy as:

Signing up at Waze.TV
Downloading the App
Getting Your Audience Involved
Audience Engagement
Using broadcast-friendly traffic tools from Waze, including branded commuter groups within the app, reporters can directly engage with their audience in a meaningful and sustainable way. Traffic reporters display real-time road conditions and reports on highways and surface streets from drivers on the road, from the convenience of an iPad in the studio. In Los Angeles, home to more than 650,000 "Wazers" (8% of local drivers), the ABC7 Traffic Spotters group already has nearly 7,000 active members, all participating for daily chances to have their report shown on live on TV.
"ABC7 is excited to add Waze to our expanding set of tools to better report real-time traffic conditions. With nearly 150,000 Bay Area drivers already using the app, we'll be able to provide our viewers and users of our digital platforms with exclusive unparalleled traffic information, even on the many roads where traffic sensors aren't available," said William Burton, President and General Manager of ABC7/KGO-TV.
About Waze
Waze is a social traffic & navigation app based on the world's largest community of drivers sharing real time road info and contributing to the "common good" out there on the road. By simply driving around with Waze open users passively contribute traffic and other road data. Users can take a more active role by sharing road reports on accidents, police traps, or any other hazards along the way, helping to give other users in the area a 'heads-up' about what's to come– and because it's 100% user-generated, the more people who use Waze, the better (and more fun) it gets!