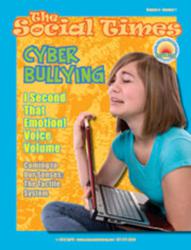 Overland Park, Kansas (PRWEB) April 18, 2012
AAPC Publishing is proud of it's decade-long tradition of publishing award-winning books and other resources that meet the highest standards in the field of education today. Continuing this tradition, we are pleased to announce the release of the fourth year of our award-winning magazine, The Social Times. New to Volume 4 this year is the joint collaboration of best-selling authors Kari Dunn Buron and Brenda Smith Myles PhD.
The only publication of its kind, The Social Times is a great resource for teachers and professionals working with students grades 3-9. Each issue offers critical information on social skills and social competence while making lessons entertaining and applicable to the lives and concerns of today's students. Topics for the 2012-2013 school year include …

Introducing Yourself
Joining In
Making and Using a 'To Do' List
Sarcasm
Cyber Bullying
Hidden Curriculum
When to Tell on Another Person
Telling Jokes
It is OK to Say I Don't Know
A 2012-2013 subscription includes:
9 issues for the entire school year (available as single sets or a set of 10 copies of each issue)
Online teacher support materials, including handouts, PowerPoints, answer keys, and much more
Opportunities to submit ideas and receive feedback from the editors, Kari Dunn Buron and Brenda Smith Myles, PhD.
The Social Times has been recognized as a Winner of the National Parenting Publications Gold Award (NAPPA) for 2010 and 2011 and received a 2011 gold medal from the Moonbeam Children's Book Awards. This unique teaching tool is written directly to students in their "voice" and offers critical information on social skills presented in articles that are both entertaining and applicable to students' lives.
What People Are Saying About The Social Times:
"The school district that I work for purchased The Social Times for use with our Asperger students. I am enjoying every issue . . ."
Julie-Social Cognition Specialist
"If you're searching for a way to teach social skills to students with ASD, look no further! The Social Times addresses timely, relevant social issues, using visuals that appeal to the students. A user-friendly format, on-line resources, and easy-to-implement lessons make The Social Times an excellent resource for any classroom."
Margaret Murray-Autism consultant, Dept. of Defense Educational Activity-Pacific
"I have purchased The Social Times for every elementary and middle school site in our district. The feedback has been very positive. The staff in our district use it as a supplement to the Garcia Winner curriculum and with video modeling. We plan on purchasing it next year."
Lynn Peal-Autism Resource Specialist
For more information about The Social Times, visit http://www.aapcpublishing.net/SocialTimes4. A sample copy of The Social Times can be downloaded at http://www.aapcpublishing.net
If you have any questions, or would like to order a sample of The Social Times, please contact AAPC Marketing at marketing@aapcpublishing.net.
About the Authors:
Kari Dunn Buron, M.S., is the coordinator of an ASD certificate program for educators at Hamline University in St. Paul. MN. She received her Master of Science degree in behavior disorders and learning disorders from Illinois State University in 1980. She recently retired from K-12 special education after more than 30 years. Kari is one of the founding members of the MN Autism Network, a statewide group of Autism Resource Specialists, and a past president of the Autism Society of Minnesota. She has spent 17 years working with the Autistic Society of Trinidad and Tobago, where she travels annually to volunteer in homes and schools. In 1995, Kari developed Camp Discovery, a summer camp for youth with Asperger Syndrome. In 2003, she received a fellowship that allowed her to study social cognition and ASD from an international perspective.
Brenda Smith Myles Ph.D., a consultant with the Ziggurat Group and the Education and Treatment Services Project for Military Dependent Children with Autism, is the recipient of the Autism Society of America's Outstanding Professional Award, the Princeton Fellowship Award, and the Council for Exceptional Children, Division on Developmental Disabilities Burton Blatt Humanitarian Award. Brenda has made over 500 presentations all over the world and written more than 150 articles and books on ASD including Asperger Syndrome and Difficult Moments: Practical Solutions for Tantrums, Rage, and Meltdowns (with Southwick) and The Hidden Curriculum: Practical Solutions for Understanding Unstated rules in Social Situations. In addition, she served as the co-chair of the National ASD Teacher Standards Committee and was on the National Institute of Mental Health's Interagency Autism Coordinating Committee's Strategic Planning Consortium. Myles is also on the executive boards of several organizations, including the Organization for Autism Research and ASTEP – Asperger Syndrome Training and Education Program. In addition, in the latest survey conducted by the University of Texas, she was acknowledged as the second most productive applied researcher in ASD in the world.
About AAPC Publishing:
Established in 1999, the mission AAPC Publishing is to be the first source for practical solutions related to autism spectrum and related disorders. We are an independent publisher, targeting professionals and parents alike. We strive to offer publications at affordable prices so that important resources will not be off limits to anyone with an interest in the autism spectrum.