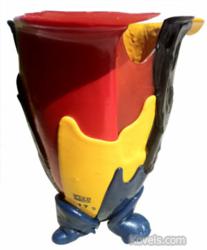 Cleveland, OH (PRWEB) April 25, 2012
How does Kovels Antiques and Collectibles Price Guide, now in its 44th year, stay current? By reflecting different collecting styles. This isn't a problem for Terry and Kim Kovel, whose collecting tastes run from traditional to modern. This is Terry's 100th book. The information, tips and prices in the guide are proof of her encyclopedic knowledge of antiques and collectibles. And Terry and Kim's different styles reflect the diverse interests of today's collectors.
Egyptian Revival Chair vs. Eero Aarnio Bright Red "Pastil" Chairs from 1967
Egyptian Revival Chair – Terry
Ralph and I saw an Egyptian-style chair in the corner of a picker's shop. It was outrageous when compared to the decorating of the day—monotone rooms and straight lines. We bought the chair for $95. In the 1980s, Yves St. Laurent decorated his New York showroom with Egyptian Revival chairs exactly like ours. The opulent rooms were featured in a magazine and Egyptian became the rage. Today the chair is worth $35,000. Sometimes great buys are a matter of luck.
Eero Aarnio Bright Red "Pastil" Chairs from 1967 – Kim
Our colorful furniture made an impression on a houseguest who had a job at a local university. Later he noticed that the university was throwing out chairs that matched our furniture. He called us. The chairs were 1967 Eero Aarnio "pastil" chairs. They used to sit in the student activity center. School officials were happy to let us cart away some chairs. In appreciation, we sent a donation to the university. A mint condition chair today is worth $1,200.
Rookwood Vase vs. Pesce Vase
Rookwood Vase – Terry
We know a lot about Rookwood marks. At an Ohio shop, we saw a tall Rookwood vase decorated with birds. The dealer wanted $10 for it. "It is low-priced," she said, "because it's marked 'Rookwood, 1885, ARV' and everyone knows the mark is two R's back-to-back with flames indicating the years." We didn't tell her early Rookwood was marked with the company's name. The vase is pictured in "Kovels' American Art Pottery." Sometimes great buys happen because you know more than the seller.
Pesce Vase – Kim
We first ran across the work of Gaetano Pesce 18 years ago. We eventually visited his studio and bought a couple of his resin pieces for flower arrangements. As longtime fans of Mr. Pesce, we like to acquire pieces directly from the artist. This resin piece fits in anywhere. It originally cost around $110 but now it sells for $750.
About Kovels.com
Terry Kovel has written 100 books about collecting, including the best-selling annual "Kovels' Antiques & Collectibles Price Guide." Terry publishes a subscription newsletter, "Kovels on Antiques and Collectibles," and writes a syndicated newspaper column, Kovels: Antiques and Collecting, that appears in more than 100 newspapers and digital publications. She and her late husband, Ralph, starred in the weekly HGTV series, "Flea Market Finds with the Kovels." The Kovels are the trusted source on antiques and collectibles. The Kovels website, Kovels.com, offers more than 800,000 free prices (all reviewed for accuracy) and other information for collectors, including books, special reports, a free weekly email publication - Kovels Komments - a database of pottery, porcelain and silver marks and an archive of useful information on antiques and collectibles.
"What the Kovels don't know about antiques isn't worth knowing." – House Beautiful
"Kovels' guides are considered the bibles of the field." – The New York Times
Contact Information:
Liz Lillis
pr(at)kovels(dot)com
216-752-2252