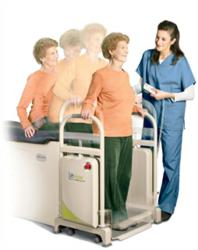 More than 89% of patient falls occur in the patient's hospital room or exam/treatment rooms.
Issaquah, WA (PRWEB) April 20, 2012
According to QuickMedical, a growing issue facing healthcare providers is the rate of accidental patient falls. More than 89% of patient falls occur in the patient's hospital room or exam/treatment rooms. Many of these falls happen when a patient tries to climb up or down from a bed or other procedural surface without help. These occurrences are largely preventable with the proper equipment.
The Brewer LiftMate is designed to reduce the injury risk associated with patients getting onto and off of standard exam tables, beds or any type of elevated procedural surface.
Manually assisting patients can lead to big problems, particularly accidental patient falls and back injuries amongst the clinical team. When you compound that with a continuing rise in the number of obese and elderly patients entering our healthcare system -patient groups that commonly experience mobility challenges-providing safe access to care for the patient and clinical team becomes more challenging.
The Brewer LiftMate is a simple platform device that works with any standard exam table, bed or procedural surface. The patient steps onto the platform and is raised to a comfortable seating height, thereby eliminating the need for manual lifting and reducing the risk of patient falls. Since the device can be rolled from room to room, it's a smart, cost-effective solution when compared to purchasing power exam tables for every room.
About QuickMedical:
With a best price guarantee and over 27,000 items to choose from including professional medical equipment, disposable medical supplies, fitness and therapy products, along with a full line of home healthcare products, QuickMedical is your online medical supply store. Click here to see our current promotions.
About The Brewer Company:
Brewer has been a leading manufacturer of medical equipment for more than 60 years. Based in Menomonee Falls, Wisconsin, Brewer offers a comprehensive line of medical power procedure tables, exam tables, exam room seating and lighting, and other chrome support products including IV poles, hampers, and mayo stands.