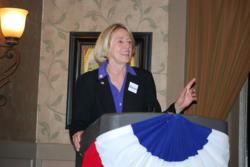 Politics as usual have failed our fine City as have City Hall insiders and career politicians. The residents of District 2 deserves a safe, clean, thriving city, focused on attracting businesses then helping them thrive. I share that frustration
FRESNO, CA. (PRWEB) April 17, 2012
The last candidate to officially declare her candidacy to represent north Fresno's District 2 is picking up some impressive endorsements and contributions. This last week a flood of well known community leaders and organizations have stepped forward to show their support for business owner – mother of seven – grandmother – 30 year district 2 resident - candidate, Kelly Miller. Her fundraising is also on a fast track outpacing others in the race.
Among the many community leaders that have recently endorsed the Miller campaign include;
Respected Republican Assembly Member Dr. Linda Halderman, a current member of the California State Assembly, who serves as Vice Chair for the Committee on Water, Parks and wildlife among others. During her first session, she was elected Chair of the California Legislative Rural Caucus. As the Central Valley grows, Assembly member Halderman has pledged to continue to advocate for Central Valley families and businesses.
Our well known and respected Two-term Fresno Mayor - now businessman Alan Autry.
Kelly Miller has also been endorsed by another popular two-term California assembly member (now retired Independent) Juan Arambula. Arambula served as a State Assembly member until 2010. Prior to representing our region in Sacramento, he served two years as a Fresno County Supervisor, and two terms on the Fresno Unified School Board. Arambula graduated with high honors from Harvard University, and went on to earn a Master's degree in Educational Administration and Policy Analysis from the Stanford University School of Education.
Miller has also received personal endorsements from Central Unified School Board Members Diana Milla, Phil Rusconi, and Judith Geringer.
In addition to these "A" list personal endorsements, Miller has received the support of the Fresno Association of Realtors' California Real Estate Political Action Committee, State Judge Advocate of The American Legion, Charlie Waters and scores of local business owners and residents of District 2. More endorsements are expected to continue rolling in as the popular candidate enters the final weeks of her campaign.
"I am humbled to have the endorsements and support of such well-known legislators and residents of District 2. I believe that we share much in common, most importantly, a servant's heart and desire to create lasting change in our local system of government. Unlike many of those who have chosen to run in this race, I have no political aspiration beyond serving my district and my City. I believe most residents of District 2 agree that politics as usual has failed our fine city. The career politician's days are numbered. When I'm elected, there will be a new fiscally conservative voice delivering common sense solutions on City Council. An unbiased voice for the people of district 2..." stated Miller. She added, "Our fundraising is brisk and will surprise those who challenge our desire to change the way we do business at City Hall. I am a fiscal conservative on a mission to increase public safety and create a more business friendly city. A clean city. A safe city. A city to be proud of."
For additional information about Kelly Miller's Campaign, to contribute or to download her free iPhone and Android Apps, please visit http://www.fresnocouncil.com