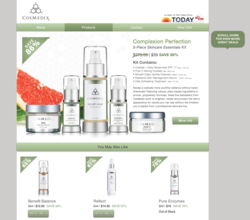 "[Excela Creative's] insight led to highly accurate forecasting which is so very critical in something like this," said Julie Campbell, CosMedix vice president of marketing. "This was a highly successful TODAY Show airing for CosMedix."
Los Angeles, CA (PRWEB) April 18, 2012
FOR IMMEDIATE RELEASE
Excela Creative (http://www.excelacreative.com), an expert in high-traffic server development, designed a micro-ecommerce site with a custom reporting system in less than a week for CosMedix, a leading skincare company, for its debut on TODAY Show's March 27 installment of "Jill's Steals and Deals."
For the first 5,000 orders, CosMedix shipped the product within 48 hours. As the biggest complaint of viewers is the three to five week ship time, the brand provided quick order processing and shipping, a very appealing element to Steals' shoppers.
In order to expedite shipping, CosMedix, which handles all order fulfillments in-house, required Excela Creative's platform to integrate with their own in-house order processing system. The web company reprogrammed its site on very short notice to successfully work with the CosMedix system to send over all order information in the format their system required.
"While it can be a demanding process to build sites in extremely small windows of time, having to restructure our backend to be compatible with their system so CosMedix could immediately begin fulfilling sales within those first 48 hours was an even bigger challenge," said Michael Henderson, Excela Creative project manager. "At the end of the day we are not a company that backs down from any type of challenge that a client needs; we pride ourselves on our ability to quickly adapt and solve problems on the fly."
CosMedix offered a skincare set at 86% off retail price and three other products at 70% off. The brand profited with hundreds of thousands in sales with several thousands of units sold.
"[Excela Creative's] insight led to highly accurate forecasting which is so very critical in something like this," said Julie Campbell, CosMedix vice president of marketing. "This was a highly successful TODAY Show airing for CosMedix."
Excela Creative has built more than 100 high-traffic websites for TODAY Show, proven to perform flawlessly, eliminating the risk of site outages and crashes. Prior experiences for clients versus ones that have not used Excela Creative have resulted in more than twice the amount of sales.
ABOUT EXCELA CREATIVE:
With more than 100 high-traffic websites designed, Excela Creative has become the leading choice for brands featured on "Jill's Steals and Deals." A division of Excela, For Everything Business, the company specializes in after-sale online marketing services including email marketing, social media marketing, web design, digital PR and more. For more information, please visit http://www.excelacreative.com.
###