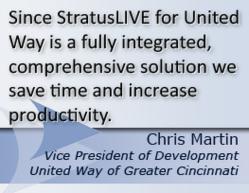 We are thrilled to see our customers thriving in such difficult fundraising times. United Way of Greater Cincinnati continues to show leadership in caring for the community.
Jim Funari, StratusLIVE CEO
Cincinnati, OH and Virginia Beach, VA (PRWEB) April 19, 2012
The United Way of Greater Cincinnat i raised $60,875,000, exceeding its goal by over a quarter of a million dollars, using StratusLIVE for United Way to run the 2011 Campaign. Since implementing the new software platform, this is the first United Way of Greater Cincinnati campaign run on the StratusLIVE for United Way solution including: planning, execution, processing, allocation and payouts to agencies. As a leading not-for-profit in the greater Cincinnati area, United Way's focus on the areas of education, income and health is creating opportunities for individuals and strengthening the entire community.
According to an October 2011 press release by United Way of Greater Cincinnati, "'It is with great pride in our very generous community – its people, its companies, organizations, and foundations – that I announce that we have raised $60,875,000,' 2011 campaign chair Kay Geiger, president, PNC Bank Greater Cincinnati/Northern Kentucky, said today. "
The 2011 United Way of Greater Cincinnati success highlights the power and flexibility of StratusLIVE for United Way as an enterprise class solution which helped United Way of Greater Cincinnati to exceed their goals.
When United Way of Greater Cincinnati was looking for ways to improve, it was important to find a solution which had the capacity to handle hundreds of thousands of transactions and still be simple to use. The familiar Microsoft Outlook interface meant it takes less time for users to be trained. Since StratusLIVE for Fundraisers is built on Microsoft Dynamics CRM platform, donor relationships are at the heart of the product. StratusLIVE solutions are built on the simple principle that one solution, built on one platform with all needed features fully integrated is possible, today. No other fundraising solution in the marketplace can offer the functionality and customization needed for the United Way with the same clarity and success as StratusLIVE for Fundraisers.
"We started to change the way we engage with our donors and our community. We worked at changing our culture and business practices to be more constituent focused," said Chris Martin, Vice President of Resource Development for the United Way of Greater Cincinnati. "Having a technology platform that would enable us to have a more integrated and automated approach to constituent relationship management was the last piece of the puzzle. And we are pleased with the results since we have switched to StratusLIVE for Fundraisers. One of the things that sets StratusLIVE apart as a company is that the founders have decades of real world fundraising experience which becomes evident in how the software is developed. Since StratusLIVE for United Way is a comprehensive solution, it will save us time and increase productivity."
"StratusLIVE for the United Way is a specially tailored version of our StratusLIVE for Fundraisers flagship product. We are thrilled to see our customers thriving in such difficult fundraising times. United Way of Greater Cincinnati continues to show leadership in caring for the community. Moving forward, we are very excited about improvements and new features in our products including StratusLIVE for United Way," said Jim Funari, CEO of StratusLIVE. "We already offer full mobility several months in advance of the official Microsoft "CRM Anywhere" release. StratusLIVE for United Way users don't have to wait. Employees and volunteers can access data in full-scale, feature-rich environments on mobile devices such as tablets and phones. We have also just launched modules for Grants, Planned Giving and Non-Cash Gifts and have a lot more in the pipeline to release in the coming months."
About StratusLIVE, LLC
StratusLIVE, LLC is a leader in both on-demand and on-premise donor management and fundraising software solutions for the nonprofit industry. StratusLIVE for Fundraisers is built on the latest Microsoft Dynamics CRM 2011 platform and delivered through familiar Microsoft Outlook , mobile devices and web browser interfaces. The product provides ease of use, familiarity and flexibility - all backed by decades of collective nonprofit and software development experience. Fundraising-based nonprofits can now leverage their existing IT investments with the latest in technical innovation from Microsoft. The result is a cost-effective, familiar and easy to use donor management solution, which ensures a low-risk investment for any nonprofit.