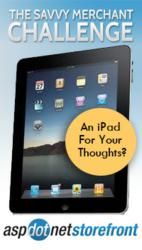 Feedback from consumers and peers is paramount among the needs of our online retailers.
Ashland, OR (PRWEB) April 16, 2012
AspDotNetStorefront, a leading e-commerce shopping cart platform powering more than 11,000 websites, today announced a contest designed to tap into the wisdom of the online crowd, and to boost conversions – The Savvy Merchant Challenge.
Starting Monday, April 16 th, at noon PDT, select merchants, running AspDotNetStorefront e-commerce websites, will be put in the 'hot seat' to have one page on their site reviewed, analyzed and critiqued by hundreds of other merchants, developers and avid online shoppers. As a reward, the Hot Seat Merchant will pick the best suggestion and reward that participant with an iPad. A new Hot Seat Merchant will be chosen, and a new iPad winner will be announced, every Monday and Thursday for at least the next 30 days.
AspDotNetStorefront decided to create a crowd-sourced learning experience for its merchants as a result of the tremendous positive feedback from the Consumer Panel and Developer Forum conducted at the 2012 User Conference in Ashland, Oregon in March. Jo Benson, COO of both Vortx and AspDotNetStorefront, said "We were overwhelmed by the excitement that we generated in the participatory sessions at our annual symposium. It became very clear, very quickly, that feedback from consumers and peers is paramount among the needs of our online retailers."
Within hours of the pre-launch, requests from merchants to be placed in the hot seat came pouring in, proving the theory that the input of their peers and customers is of paramount importance.
Posted on the AspDotNetStorefront blog each Monday and Thursday at noon PDT, the featured product page will be subject to intense scrutiny and feedback – all with the goal of making the page more compelling for the average online shopper. Beyond the practical, relevant feedback, the Hot Seat merchants can also expect a nice boost in traffic to their site.
The respondent with the most compelling idea will be rewarded with the latest Apple iPad.
Here's how to play:
1. Each Monday and Thursday, one 'hot seat' merchant will post their best product page on the AspDotNetStorefront blog.
2. Participants submit their best single suggestion for improving the shopper experience by adding a comment to the blog post.
3. The Hot Seat Merchant will choose the best suggestion from all the submissions. The winning contributor will receive a free iPad for their thoughts
AspDotNetStorefront is hosting this event as part of its commitment to educating merchants long after the initial shopping cart software purchase.
"Both online shoppers and online merchants are more clever and canny than ever. So, we work hard to continue to release more powerful, cutting-edge e-commerce software," says Jo Benson. "But, in the end, a tool is only as good as the person using it. So, we also strive to help our users continually develop into ever smarter online retailers."
About AspDotNetStorefront
Vortx, Inc, makers of AspDotNetStorefront, was founded by CEO, Dana Greaves in 1991 to deliver custom software solutions for business and government internationally. Located in Ashland, OR, Vortx, Inc. is a privately-held company, which, over the course of twenty-plus years, has grown into a highly skilled, strategically diversified team capable of providing a growing selection of cutting-edge e-commerce products and services. The AspDotNetStorefront e-commerce shopping cart, and DotFeed product feed platform, are used worldwide by more than 12,000 merchants and developers. For more information, visit: http://www.AspDotNetStorefront.com