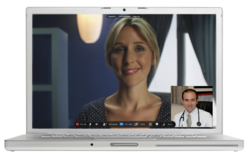 Sleep apnea can have such a detrimental impact on health, and sadly, most sufferers don't even know they have it.
Van Nuys, California (PRWEB) April 17, 2012
Aviisha Medical Institute, LLC, will join healthcare providers and advocates across the nation in support of Sleep Apnea Awareness Day. The American Sleep Apnea Association designated April 18 as Sleep Apnea Awareness Day and called upon health professionals, patients, and advocates to make special efforts to raise awareness about sleep apnea.
To support the effort, Aviisha Medical Institute will offer free sleep apnea screening and assessments for patients between April 18 and April 30. The assessments will be conducted online by Aviisha sleep specialists using Aviisha's telemedicine platform.
"Our main priority at the Institute is helping people get healthy," said Dr. Avi Ishaaya, Aviisha's co-founder and CEO. "Sleep apnea can have such a detrimental impact on health, and sadly, most sufferers don't even know they have it." Studies estimate that 85% of sleep apnea sufferers are undiagnosed and untreated and roughly 1 in 5 Americans suffer from the disease. Some of the main indicators of obstructive sleep apnea are being overweight or obese, loud snoring, chronic sleepiness, and pauses in breathing during sleep. "If you or your partner has any of these signs, you should strongly consider getting evaluated and tested."
Once evaluated, patients can get tested through Aviisha using a home sleep test. The home test is significantly more affordable than the traditional in-lab test as well as more convenient. If patients are diagnosed with sleep apnea, they can begin treatment or take preventative steps to minimize the severity of the disease. Untreated sleep apnea has been linked to countless diseases including heart failure, hypertension, stroke, arrhythmias, coronary artery disease, depression, diabetes, GERD, erectile dysfunction, and even sudden death. AutoPAP therapy, the gold standard in treatment, can reduce the risk of these additional diseases. AutoPAP therapy is also available through Aviisha.
To get your free assessment, visit Aviisha's sleep apnea test page or call 877-4AVIISHA.
About Aviisha
Aviisha is the national leader in home sleep care. We work with physicians and patients around the country to provide comprehensive, convenient, affordable services to address the emerging sleep apnea epidemic. Our services include home sleep testing, treatment, compliance management, and education. We also operate fully accredited sleep labs in Southern California and the MD Home Sleep Program which empowers non-sleep physicians to diagnose and treat sleep apnea.